Hi guys,
Showing off my last hobby project, been in the works for a couple of year with interruptions. The sword is finally finished, just the scabbard left to be completed.
See the attached pictures.
The blade I used is Kris Cutlery's Pinuti II (not produced anymore). I like KC blades in general and used them for many of my project over the years. They are affordable but perfectly functional, good well heat treated steel.
I consider Pinuti as just about the perfect blade shape/size for a short cut and thrust sword, so used it even though it isn't exactly historically correct. I made an XVIIIc hanger/hunting sword with the original Pinuti blade about 5 years ago, and for this project got the next iteration of the blade, which actually has two advantages from my point of view: made of simple 1060 carbon steel (more period than the original's 5160) and thicker blade.
The only problem with these blades is tang: it is relatively short, originally just epoxied into the wooden handle. So to use traditional peened handle/pommel construction, I had to extend it with a piece of mild steel. I did it with a very tight (hammered in) T shaped joint, and brass braised. No way it can be pulled out, and stood the stress of peening the tang just fine. The joint is under the handle, about an inch from pommel. So it can't be laterally bent either, not without breaking the handle first.
The blade stats: 20" long, 5/16" thick at the guard (with strong
distal taper
), a little over 1 1/8" at the guard and 1 5/8" at the widest belly.
Balance point
is about 2 ¾" in front of the guard, even with the solid steel guard/pommel. It is a pretty heavy little beast (unfortunately I don't have suitable scale to weigh it). But still, very much maneuverable, thanks to just 20" of blade.
All fittings (guard, pommel, handle collars) are 1018 mild steel, heat blued, with fine silver inlays. Color and contrast came out better than I expected, much nicer than my pictures can show.
Handle is wood (poplar) core, wrapped with two wire strands (plain "gold" and twisted "silver").
There is a nickel silver washer between guard and blade (couldn't fit the guard without some unsightly gaps).
Peen block also of nickel silver, decorated with 4 round cuts on the sides.
Any thoughts/questions?
BTW, I am still researching design for the scabbard, going to start a separate topic on that.
Thanks.
Alex.
---

Attachment: 139.61 KB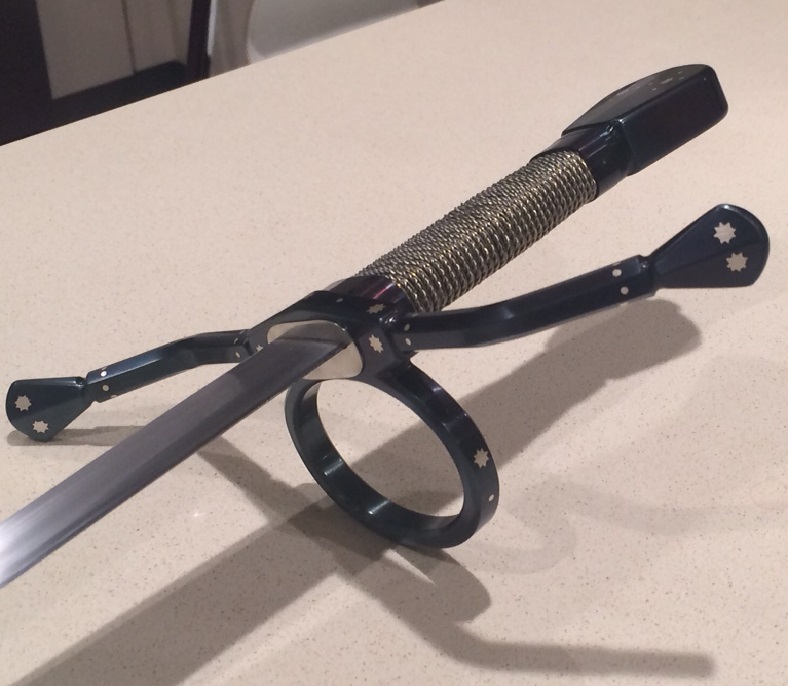 Attachment: 106.74 KB
[ Download ]


Attachment: 239.7 KB
[ Download ]


Attachment: 180.8 KB
[ Download ]


Attachment: 123.91 KB
[ Download ]