Warning, the following may offend Albion purists:
For various reasons related to my ancestry and taste in swords, I'm a big fan of the many swords depicted in the graveslabs of the Western Highlands, Hebrides, and Eastern Ireland (see picture from Kilmory below). These slabs and related sculptures dating form 13-15th century tend to depict single hand swords with broad cutting blades, downswept straight quillons enlarged toward the end, ecusson protruding over the blade, and 'transitional' viking-like pommels ranging from a fishtail type to an
Oakeshott
type M with a prominent center lobe (the excerpt from the McMillan Cross below is a perfect example of the latter). Unfortunately, I don't think any complete examples survive, but many sculptures survive, often associated with early 'Gallowglass' culture, and examples are easily found in an internet image search.
So of course one my first aquisitions in the higher-end sword market was the Albion Caithness. To my knowledge, this is the best and one of the only production pieces of this type. However, over time I found myself not entirely satisfied with the Caithness, for two related reasons. First, the blade (borrowed from Albion Knight) is a bit light for my taste, and (to my taste) feels insubstantial compared to the heavy pommel of the sword. Second, from what I can divine from the internet, most of the original swords had more parallel blades (like XIIIb) rather than the XII on Caithness. This is a bit hard to tell, because some or all of these slabs might be depicting swords in their scabbard, I don't know. Nevertheless, they often look XIII-ish to me, heavy cutters, which seems to fit with the residual Celtic/Scandanavian warrior ethos of that region and time.
I had thought to sell my Caithness and order a custom version, but on the other hand I really love the hilt furniture on the Caithness...I know that pommel is very hard to execute by forging, and it really couldn't get any nicer. So I hit on the idea of keeping this part and replacing the blade. This took a lot of existential grappling, since one does not go about tearing up a thousand dollar Albion lightly, but the idea stuck for years. I played around with various designs, finally deciding on a blade inspired by Oakeshott Records XIII.1, which has a very parallel blade and three half-length fullers (see my original graphic mock-up below). This would spice things up a bit and still be in keeping with the notion of the kind of Continental blade that a 14th century Scottish cutler would get his hands on, and specialize to local taste.
Ultimately, I contacted A&A about this project (the response was 'sure, no problem') and sent them my Caithness last year. Since then I've been missing my Caithness, and biting my nails a bit about how it would turn it out. But finally, this past weekend Craig sent me a first picture. Looks like a slightly distorted phone shot, but enough to set my mind somewhat at ease. Still lots to worry about...do the stats work out as I hoped, does it feel right, and especially how does the new blade mated to the old hilt affect the harmonics?
I hope to provide some more details, pictures, and impressions in the coming weeks. Hopefully it's worth the risk!
---

Attachment: 261.44 KB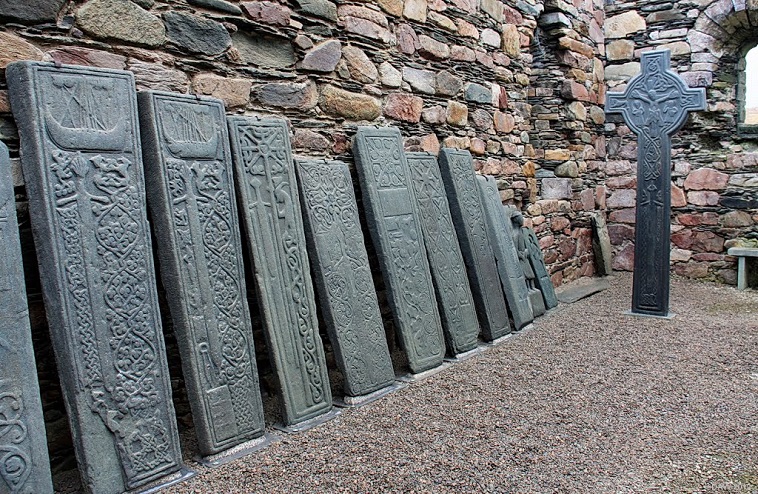 Attachment: 40.53 KB



Attachment: 42.97 KB



Attachment: 85.32 KB