---
I am selling my VA Irish Ring Sword scabbard and belt. I am selling it because am moving back to the states soon for college, and I need the extra money.
This sword has never been used, the only things I have done with it is keep it clean and oiled. The blade is made out of 1060 high carbon steel and the fittings are cast out of mild steel.
blade length: 88 cm
Blade width at guard: 5 cm
Grip Length: 18.8 cm
Over all length: 114.8 cm
PoB: about 11 to 11.5 cm from guard
I am asking for $650 or best offer, this will include shipping. I am only willing to send to the US. I am available any time during the day to email or pm.
Btw, the more professional looking pictures were taken by Sonny from Valiant Armoury. The photos were posted to the VA Facebook page and can be found in the photos from 2015. I used these because they were the best pictures of the sword I could find, and way better than any I could take.
---

Attachment: 17.02 KB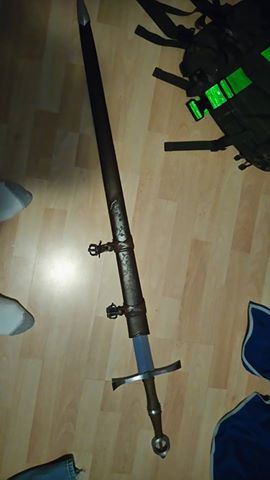 Attachment: 267.83 KB
[ Download ]


Attachment: 143.53 KB
[ Download ]


Attachment: 116.02 KB
[ Download ]


Attachment: 271.03 KB
[ Download ]


Attachment: 42.45 KB
[ Download ]