Being new to the historical/semi-historical recreation scene, I decided to give a try to spear hafting. I bought the Windlass/MRL long-bladed hewing spear. I didn't realize it until hafting, but the deal of the day find I bought had been mis-drilled and had the rivet holes in line with the edge, instead of perpendicular to it...not to mention that the holes were fairly misaligned with one another too. Nonetheless, it being my first attempt, I decided not to let it bother me too much. I primarily chose the hewing spear for the reasons that it was affordable, and that I could have some relativistic freedom in my interpretation. They're of course mentioned in the Viking Sagas (Atgeir) but there aren't any such-identified surviving examples (at least that are known to me).
I began with a 6 ft. poplar dowel from Lowe's. I know that ash is historically ideal, but very difficult to come by at lengths longer than 5 ft. I finally justified my misgivings by telling myself that historical haftsmen would have done the same thing - if the ideal version is unavailable or prohibitively expensive, go with a solid alternative. I know I could've ordered an ash dowel for around $30 (more like $50-$60 after shipping) from online sellers, but I've seen too many stories of buyers frustrated at the likes of warped dowels, or dowels with poor grain pattern. I figured a nice solid piece of poplar from the local store was my best bet as I could choose one with tighter, straight grain - and all for around $10 too!
I used a surform tool (as suggested by the magnanimous Sean Flynt) for shaping the end that would receive the socket. I also used it for shaping the area that would eventually take the buttcap I was making. This tool might as well be a magic wand as far as I'm concerned - it's fantastic for that kind of shaping. Cleaned the really fine work up with some files and it was ready to go. Next came the shaping for the buttcap, which began life as a plumbing pipe cap (again, thanks go to Sean Flynt for this inspiration). It took a little while at the grinder, but the mild steel of the cap ground away fairly easily. I was left with a nice beveled cap that could counterbalance some of the weight of that spearhead (which was surprisingly hefty).
After shaping, I oiled the haft - 5 good coats - and the poplar took it very well. And finally I fitted. I secured things in place with a rivet for the head and buttcap, with a little JB Weld in the rivet holes for good measure. Lastly I added a decorative knot in leather cord.
Overall, it was a fantastic education. I'm glad to have had the opportunity to jump in and enjoy something like this. In the end I'm fairly pleased with my first attempt, and with newly acquired skill and knowledge I can aim for even greater historicity in future projects.
---

Attachment: 102.05 KB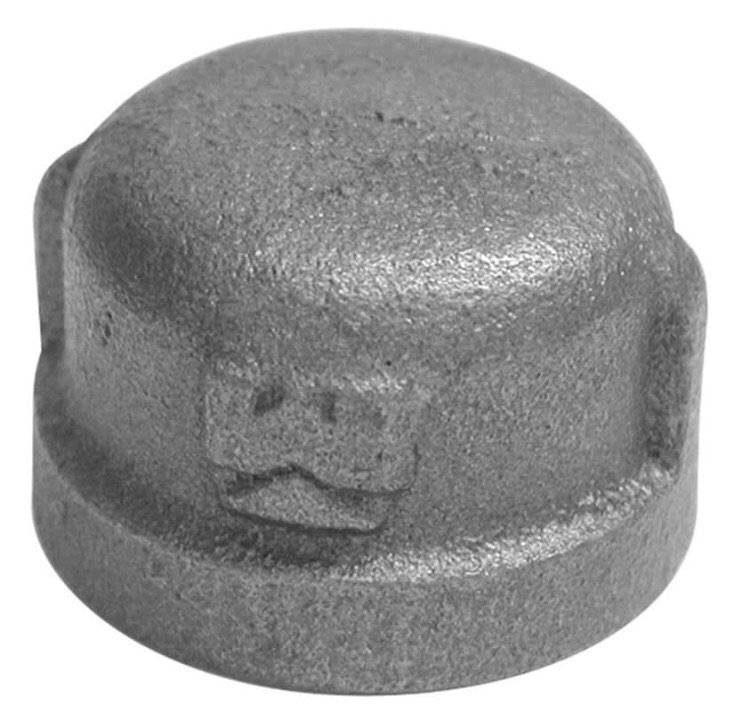 Original pipe cap

Attachment: 39.97 KB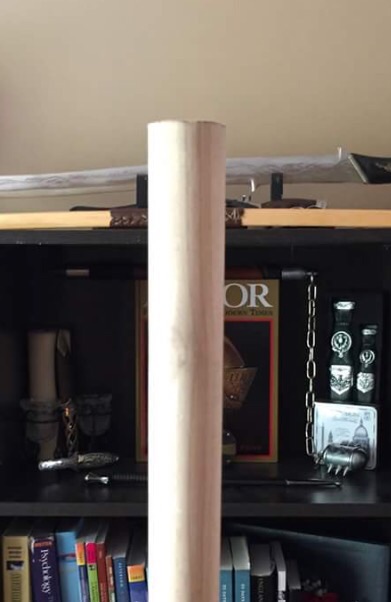 Stock pole

Attachment: 45.64 KB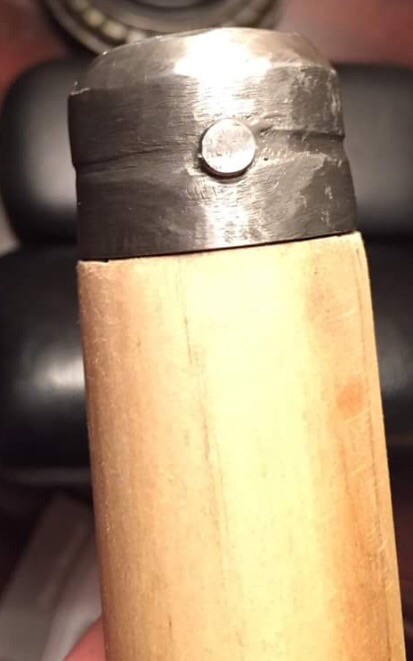 Buttcap after grinding

Attachment: 16.55 KB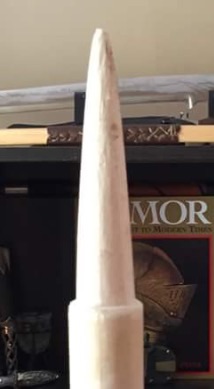 Shaped for socket

Attachment: 71.03 KB
Finished spear close up [ Download ]


Attachment: 86.07 KB
Finished spear [ Download ]