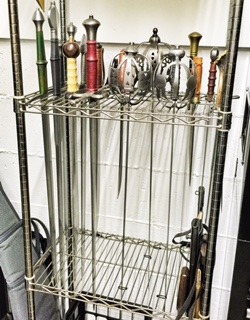 Although it seems like an obvious solution for storing edged items, it took me 20 years to think of it.
I'm fortunate that my wife allowed me so much square footage for my workshop in our new home. She kinda put her (dainty)foot down about having an arms collection hanging on the walls, but I now have a smallish locking room for all the stuff that seems to make people nervous these days. Not quite a walk-in safe, but it would take more than a claw hammer to get into it.
Even better, the IKEA Omar shelving is on sale right now in the US for $20/unit. It's a little better than the METRO shelf shown since the wires that run lengthwise down the shelves are closer together.