This sword was an acquisition of mine when I entered HEMA. I had been doing re-enactment for a while and wanted a longsword suitable for, at least, technique training and drills. JINO/Benešov have a little bit of a complicated history (cf. my other review of a JINO sword:
http://myArmoury.com/talk/viewtopic.php?t=32162).
This sword is from the smithy of Helena Vorlová (http://www.jinoswords.cz/index.php?lang=de&call=home website available mostly in Czech and German) and was offered at a special discount rate for a Christmas sale of their in-stock items. I paid 210€ plus shipping.
Jirka Novak and Helena Vorlová generally cater more to a re-enactment audience, thus often paying only lip-service to authenticity. They look good, but are not exactly fully authentic. It also means that their swords tend to be slightly overbuilt, as stage fights and ham-handed re-enactment fencing put a lot of unnecessary stress on the material.
Specs:
Weight: 1915g
Center of Gravity
: 2.3cm in front of the crossguard
Forward Vibrational Node: 40cm from the tip
Length: 127cm
Blade Length: 93.7cm
Blade Width at the crossguard: 4cm
Blade Width at the Vibrational Node: 2.5cm
Blade Width at the Point: 1.5cm, one inch away from the point
Blade Thickness at the base: 5.3mm
Blade Thickness at the Vibrational Node: 5mm
Blade Thickness at the Point: 4mm, one inch away from the point
Handle Length: 25cm
Pommel Length: 7cm
Crossguard Width: 23.5cm
As is apparent from the specs, the sword is definitely on the heavy side. This is in no small part due to the pommel's tremendous size and weight, which acts as a curse, but also a blessing to the sword. The very backwards center of gravity makes the sword flow through the motions of solo and partner drills marvelously, and the long handle offers plenty of leverage to accurately maneuver the blade. It obviously features very little
distal taper
, which from my understanding is not all that uncommon on a blade that fits the Type XVIIIb. Its blade has a diamond shaped
cross-section
and features a prominent
profile taper
, mimicking a rather thrust-centric blade form.
These factors are a good thing for controlled practice of techniques, as the blade does not easily move out of the way in a bind with the slight added benefit of providing a better workout as you're moving more mass.
The problem, however, lies in its lacking thrust-safety. The blade is extremely rigid and will not easily bend when giving point, making it unsuitable for free rough-and-tumble sparring if thrusts are allowed.
The sword is finished pretty well, with the sword having a polish on the verge between matte and shining. It's worn off a little due to occasional use of scotchbrite pads to remove stains and dirt, making it a bit more matte than it used to be. All parts of the hilt are neatly constructed, with the larger grooves being machined and the small incisions and toothing being applied by hand. The many varieties of hilts are a staple of JINO/Benešov swords.
Fit is a bit hit and miss, but overall definitely solid. Initially everything fit very snug and nothing had any play whatsoever. In time, though the pommel loosened a tiny bit, so that it now rattles audibly when the sword is struck or hits an object. Not a critical error, but still a flaw worth mentioning. I could probably fix it with a few solid strikes on the peen, but I won't risk breaking anything if it's still in working order. The blade's center ridge is also not perfectly straight and not perfectly centered, which is not apparent at first glance.
Durability is fair enough. The blade was built for heavy-duty re-enactment use and stood up to HEMA practice just fine. Edge deformation is there, but not problematic. Use of a whetstone to remove sharp edges is required occasionally, especially in the "breaking in" phase. No notches have been dug into the blade, only slight nicks and dents appeared on the surface. The crossguard is locked in place and brazed. That's not coming loose anytime soon.
All in all I really like this sword, simply because how beautifully it flows through solo drills and how much fun they are with it. It's also definitely an eye-catcher on renaissance fairs, although not quite a historically accurate one.
On a sidenote, JINO/Benešov have lately started making a lighter version of this blade (3.5m instead of 4cm wide at the base) for historical fencing purposes and I have had the chance to try a few of those. They handle just as well, but are substantially lighter (~1600g in total at that size), as the pommel is reduced in size as well to match the blade. They also have a better flex to them and can therefore be safely used in sparring.
---

Attachment: 109.95 KB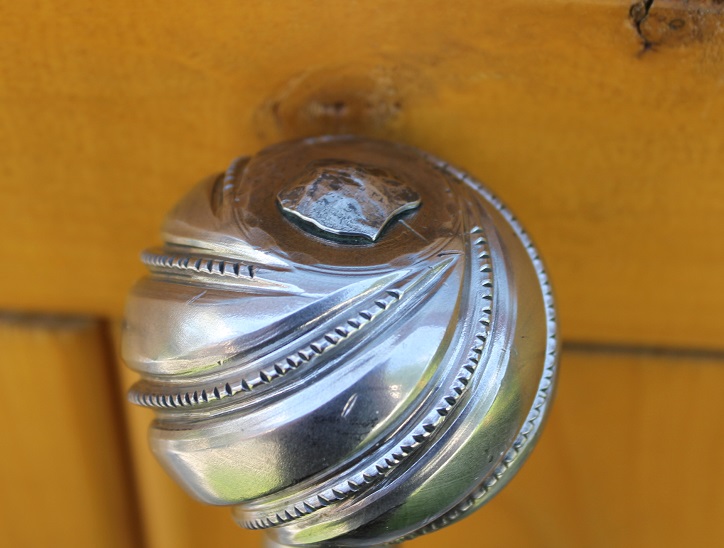 Pommel

Attachment: 32.08 KB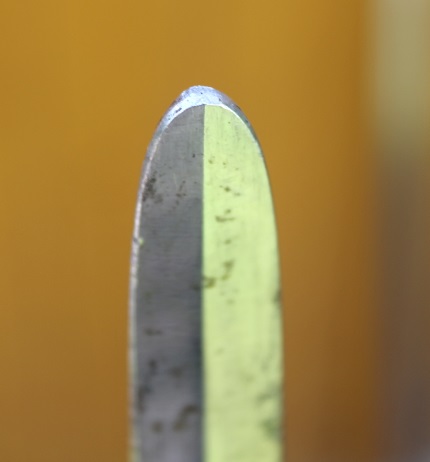 Point

Attachment: 269.28 KB
Cat for scale. [ Download ]


Attachment: 241.21 KB
Total [ Download ]


Attachment: 122.12 KB
Total 2 [ Download ]


Attachment: 199.66 KB
Hilt [ Download ]


Attachment: 114.25 KB
Crossguard Assembly [ Download ]