When I got closer to being ready to do full-contact sparring in my local HEMA group I realized that my previous training longsword (review forthcoming) would no longer be adequate due to rather high weight and an unhealthy combination of a narrow point and considerable stiffness.
My fellow students and our trainers set up a bulk order for various swords from Peter Regenyei (http://www.regenyei.com/en_index.html), which lowered the price for each standard feder sword to ~190€. Since Peter usually has a considerable queue it took quite a while for the swords to arrive, but it was definitely not an unreasonable wait.
I've been using it for two years now and am very happy with it.
Specs:
Weight: 1395g
Center of Gravity
: 7cm from Crossguard
Forward Vibrational Node: 39cm from the Point
Rearward Vibrational Node: Slightly behind the forward hand
Length: 133cm
Blade Length: 100.2cm
Blade Width at the crossguard: 3.5cm
Greatest Width of the Schilt: 8.3cm
Blade Width after the Schilt: 2.5cm
Blade Width 39cm from the Point: 1.6cm
Blade Width at the Point: 1cm
Blade Thickness at the Schilt: 5mm
Blade Thickness 39cm from the Point: 4.5mm
Blade Thickness at the Tip: 2mm
Diameter of the Safety Tip: 7mm
Handle Length: 25.2cm
Pommel Length: 7cm
Crossguard Width: 24.5cm
The feder handles extremely well for me. It's certainly on the long side, but that suits me (1.87m tall) just right. While I have had great problems handling my sabre due to the cord bound grip I find it very comfortable here. I also find pear shaped pommels to be the most comfortable to use. The weight is excellent (if you like your swords to be on the light side) and balance is very adequate. The only caveat I see in terms of handling is the position of the rearward vibrational node, but I've personally not had any issues with it.
The blade is of Peter's stiffer type, as I find the more flexible variants to be slightly floppy and disadvantageous in a bind. It's also probably one reason why I find the rearward vibrational node not to be an issue: it does not vibrate as much. Good protective gear is mandatory as it does not flex easily in a stab. If you like long handles and can handle the long blade it flows through the motions easily, even during long training sessions.
The handle is large enough to use any type of glove you like, but plate gauntlets will erode the cord of the grip rather quickly.
The blade has a rough finish with marks of the tools used showing here and there, but that's an absolute non-issue for me in a dedicated training tool. The crossguard is not mounted perfectly straight, which likewise does not impede its functionality. It looks to be peened, although I have seen the outside part of the peen break off on another feder of the same type and its owner believes it to be actually threaded and then "pseudo-peened". Regardless of the method used, I have not seen a Regenyei feder fail within the hilt section, and they're being used very hard by my group in tournaments, sparring and training. Some of the flexible blades snapped after being bent very much again and again over the years.
The blade is also extremely resilient to edge damage. All damage sustained so far is so superficial that I'd not even call them "nicks", but rather "scratches and dents", and I've used it quite a lot and in pretty forceful sparring matches. It's also pretty resistant to corrosion and can go for months without developing even as much as a spot of rust if stored in a dry place.
Overall I am very satisfied with Regenyei's feders, but I'd advise the use of the stiffer blade if your group permits it and, other than on mine, ask for a crossguard with protective siderings.
---

Attachment: 83.75 KB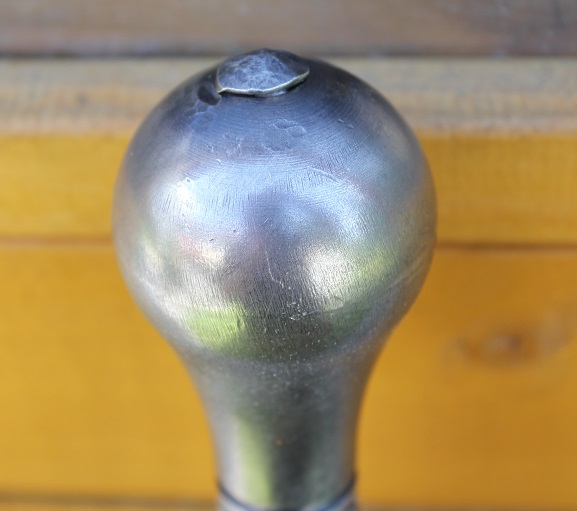 Pommel

Attachment: 29.65 KB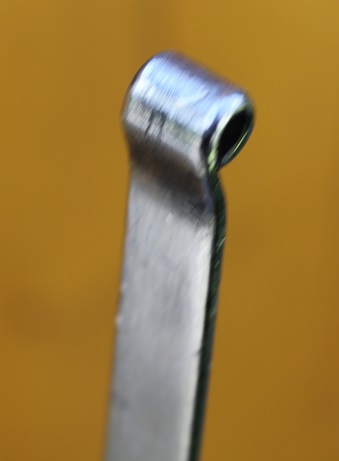 Attachment: 293.04 KB
Cat for scale [ Download ]


Attachment: 110.36 KB
Overall [ Download ]


Attachment: 111.05 KB
[ Download ]


Attachment: 165.88 KB
[ Download ]