The Late Germanic Iron Age (550-750 AD) is sadly a period with only a few good well preserved sword-finds in Denmark; compared to the bog-weapon finds from earlier in the Iron Age.
Mostly graves are cremation graves and also that even in inhumation graves it was apparently not common to add grave goods. Sacrifice of enemy weapons also seems to cease.
On Sjælland (Zealand) a grave from around ~650 AD have turned out a well preserved sword.
The
Kyndby grave site
(North Zealand) was the burial of a rich man, a rich woman, and 6 poorer graves. So with all likelihood the household of husband and wife with retainers.
The man was tall and between 20-40 years of age and buried with a sword, that was deliberately somewhat destroyed at the burial rites.
The woman was buried with animal-fibulas and a big bronze jewelry piece and also had 70 glass-beads, 2 amethysts possibly from Italy and a small cylindrical bronze box with silver ornamentation.
What is really special is that in all the graves at the site the diseased were buried with 1 big dog.
A similar type of grave have been found at
Elmelunde
, Møn, where both sword,
shield
and the skeleton of a big dog was found. Haven't found any picture from that find yet.
At
Bildsø
in Western Zealand a stray sword find dated around 650-700 AD was found in 1866 when digging up the old drained lakebed. It was not deliberately destroyed before deposition in the lake, so likely a offering.
Sadly haven't been able to find picture of the full length of the sword, not any measurements.
From the different finds it has been possible to
reconstruct the weapon development in Denmark from 550-750 AD
: [Picture 1: 550 AD, Picture 2: 600 AD, Picture 3: 700 AD, Picture 4: 750 AD]
[ Linked Image ]
Source:
http://www.denstoredanske.dk/Danmarks_Oldtid/...%C3%A5ben#
So we see a development from a short
seax
from 550 AD, towards longer and longer seaxes complementing the swords until they take over totally as the reserve weapon to the spear in 750 AD.
Also note the changes in spear-heads and shield-bosses
!
---

Attachment: 57.3 KB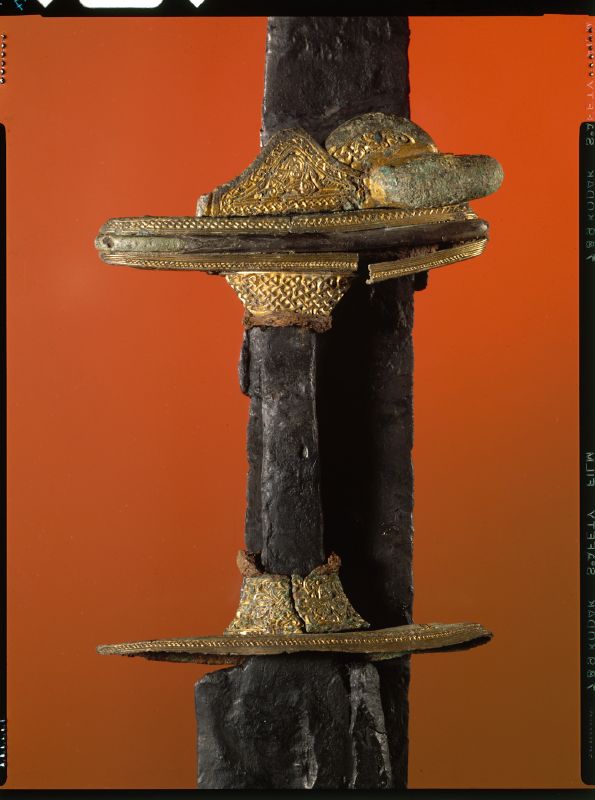 Kyndby Sword.
Source: http://samlinger.natmus.dk/DO/2066

Attachment: 38.27 KB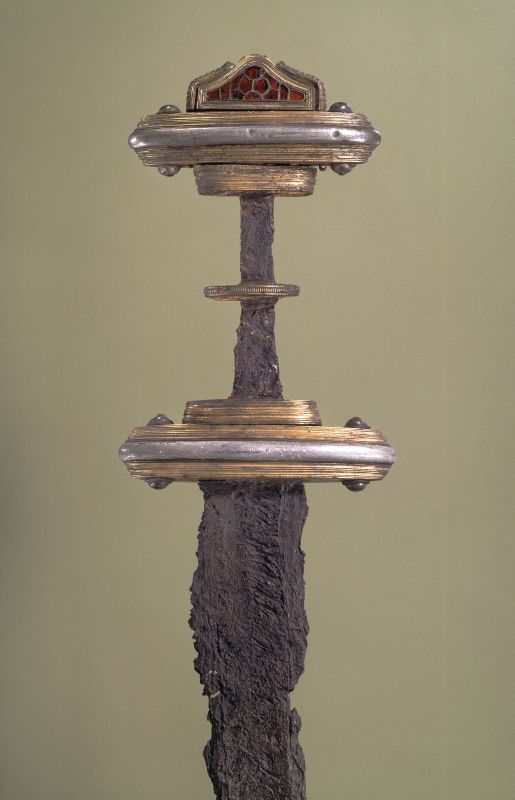 Bildsø Sword "Front".
Source: http://samlinger.natmus.dk/DO/7314

Attachment: 37.48 KB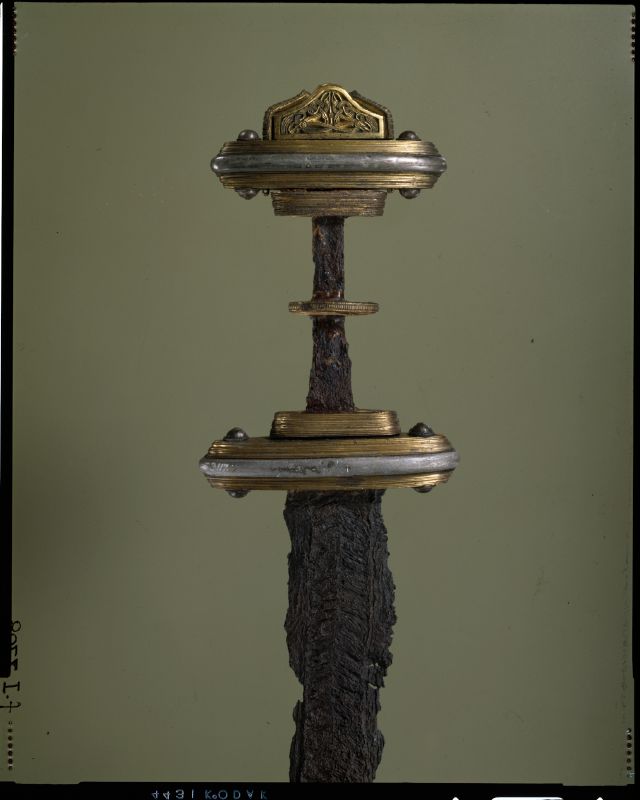 Bildsø Sword "Back".
Source: http://samlinger.natmus.dk/DO/1303