Hi
Well this is outside my usual periods of interest, but then again it is a pointy metal thing so I guess it interests me after all.
A local pawn shop was closing down recently and this bayonet and scabbard was 1/3 off regular price. So I thought I would get it and see what the myArmoury denizens think of it.
There are a number of cartouche marks and an inscription on the spine. Not sure if I have the words right, but I believe the inscription says "Mre d'Ormes de Lt. Etienne Fevriev 1879" which a google translate seems to mean "Mother of Lt Stephen Fevriev 1879, Ormes (a town in France). But if another person sees something else, it might make more sense.
The cartouches are as follows:
*B
M
*T
J
M
something that looks like a crown over an O
J
There is a marked number on both the bayonet and the scabbard which matches: "FG74043"
Any information about this would be appreciated. I do not know anything. I'd like to know:
1. Is it really possible to be from 1879 or so?
2. What kind of care should I give it? Oil? Keep in scabbard or not? Some light rust spots are on blade, how should I treat these?
3. Meaning of cartouches and inscription
4. What kind of rifle would it fit?
5. What kind of wars or battles could it have seen? I do not know much French Military history.
6. How can I find a value of it? If someone here wants to make a guess that would be nice, or maybe there is another place to find out.
If anyone would like more pictures of the mounting mechanism, blade, or any other specs I can try to provide that. The pawn shop owner only said he got it from someone who brought it into his shop and could not provide any other information.
All in all, I think it is in pretty good condition, which makes me distrust the 1879 "dating". However, it is a nice bayonet, no matter the time. Thank you very much for any help.
edited: To be honest, I'm half expecting this to be a relatively modern (20th century) with an anachronistic inscription. Which doesn't really make sense and might be an interesting story by itself. Please any comments or observations welcome. And I certainly can take more pictures if there is something in particular that would help, I just took a quick few of what I thought were the most pertinent details.
---

Attachment: 126.77 KB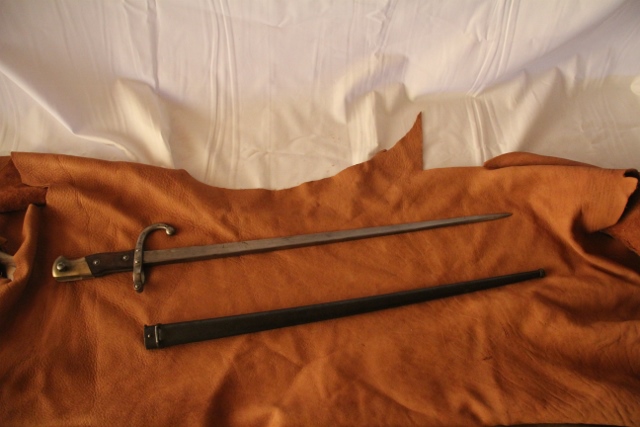 Attachment: 134.95 KB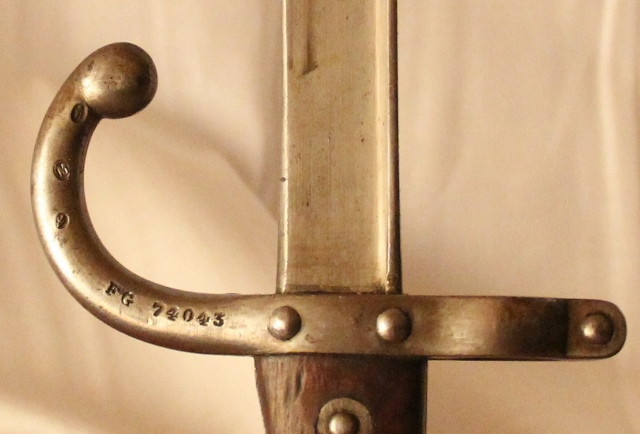 Attachment: 160.18 KB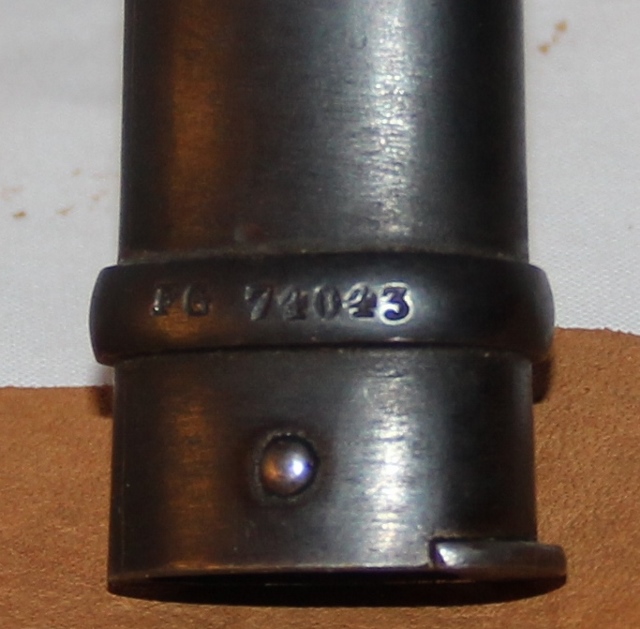 Attachment: 134.46 KB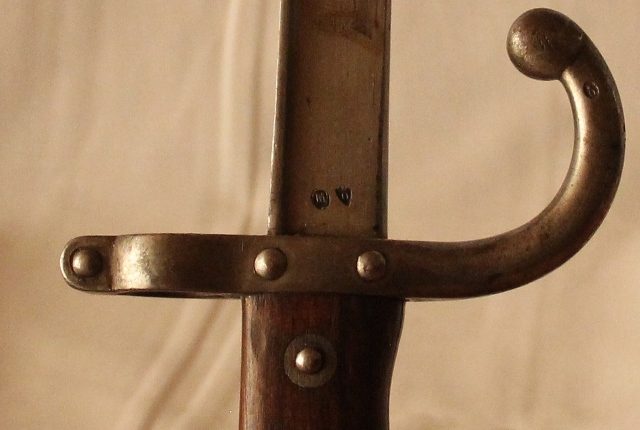 Attachment: 88.83 KB