When most people buy an Albion Maestro longsword, they get a Liechtenauer or a Meyer. That isn't surprising, as those two models are tailored to 15th century German and Italian longsword disciplines used by HEMA practitioners. The Epee de Guerre gretesword is a much less common purchase.
Since I am an occasional stage combat practitioner, my needs are a little different. I look for an all-purpose model that can cover a number of time periods. I also want something that handles as close as possible to the way a real sword feels. That's not easy to find in a stage combat sword. Many of them are overbuilt, weigh too much, have bad
blade geometry
, and feel dead in your hands.
I considered getting the Liechtenauer, but my ATrim SB1450 is a similar sword. (SB1450 is a wonderful piece, but one that you will never see again) So I took a chance on the Epee de Guerre, which arrived a few days ago.
Specs (in inches)
Overall Length – 44
Blade Length – 34.875
Grip Length – 6.812
Blade Width at Guard – 2.125
Blade Width Near Tip – 1.00
COG – 3.3
COP – 22.5
Blade Thickness at Guard – .246 (6.25mm)
Blade Thickness Halfway Down Blade - .188 (4.78mm)
Blade Thickness 2 inches from tip - .123 (3.13mm)
Overall
Distal Taper
– 50%
Blade Edge Thickness - .120 (3mm) Rounded edges
Weight – 3 lbs, 10 oz (Albion's spec)
I have an old style caliper, so the blade thickness measurements may not be absolutely accurate. They should be within .005 of reality.
I'm not a fan of the Maestro grip, so, for an additional fee, I had them add an oxblood leather wrap. I was a little concerned about the grip length – the spec over at Albion Europe said 6.535 which seemed a little tight for two hands. Luckily mine came in at almost 3 tenths longer, and that is good enough for my hands. Of course, you can always slip the pommel.
It has a good, but not great finish on it. It's actually better than the finish on my other Maestros, especially on the hilt furniture. The blade has some flex, but it is far from being a noodle. I actually like a little flex, unlike some HEMA folk, who favor very stiff blades. In comparison, my BKS longsword has near zero flex. The 3mm rounded blade edges are very encouraging for edge durability.
So, how does it handle? Very nicely. It weighs 3.625 lbs, but seems much lighter. It's no featherweight, but feels very lively and maneuverable in your hands. (As in all swords like this, you can wield in with one hand, but two is much better) I believe that two key contributing elements are
1) The long, wide, though historically inaccurate fuller that you find on most of the Maestros.
2) Starting the blade thickness at more than 6mm. That give the maker more scope and room to play with distal taper – 50% overall in this case. Inadequate distal taper is where many blunt/stage combat blades suffer problems..
This sword has a lot of power. I think one reason people may have shied away from it is it could hit very hard. That isn't a problem for me. In stage combat, you pull your punches and end up hitting people as gently as possible.
Of course, this sword has yet to be proved. I hope I can use it on stage soon – maybe the Battle of Shrewsbury in Shakespeare's Henry IV Part I.
On a side note, I want to praise the white Albion shipping box. I don't know why nobody else uses this method of protecting and immobilizing the sword. Maybe Albion has a patent on it. Boxes from other swordmakers often smother the sword in taped up plastic bubble wrap, or file the box with reams of crumpled up paper. Worst of all is filling the box with a plague of Styrofoam peanuts. Kudos to Albion for the White Shipping box.
---

Attachment: 98.91 KB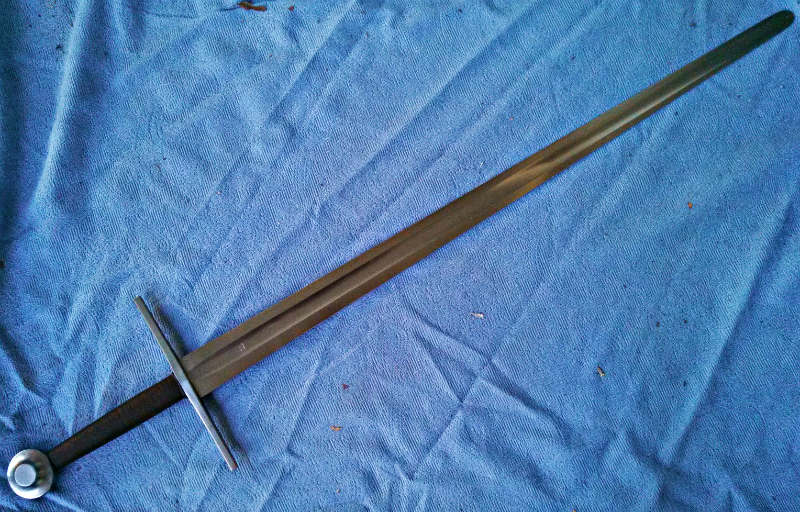 Attachment: 99.67 KB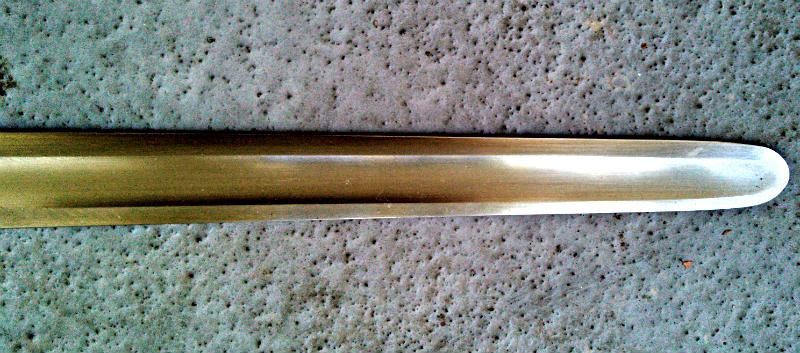 Attachment: 97.39 KB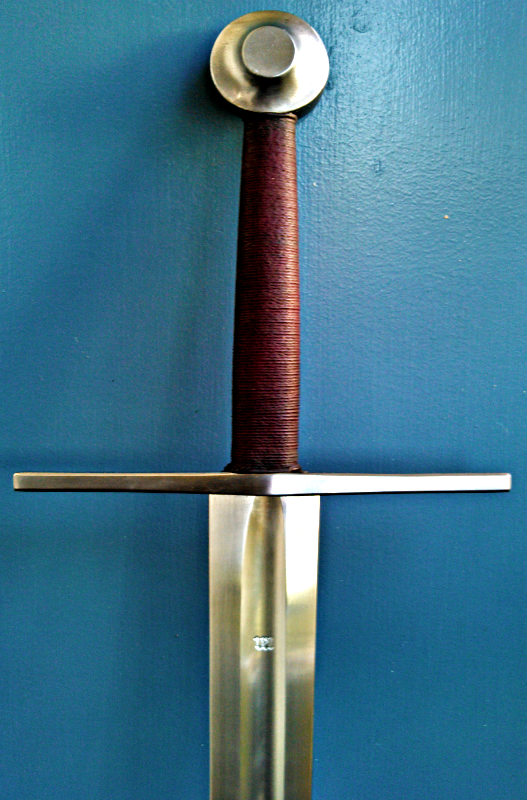 Attachment: 99.42 KB