Early this year Toby Capwell approached me to make a sword, scabbard and
shield
'for' Humphrey de Bohun for the then upcoming Bannockburn exhibition funded by Historic Scotland. This was of course a fascinating project for me and one I was very pleased to be able to undertake.
The project started with Toby supplying a series of effigies from which we selected elements for the pieces and of course dealt with budget restraints.
The sword furniture was closely based on a piece from the Wallace, though the blade is simpler in form. The pommel has a series of enamelled lines in red and blue, but the most striking aspect is the cord bound grip. I had wanted to try this type of decoration for a while and this seemed like the perfect opportunity and so I use the blue and gold of de Bohuns' colours and made a suitably garish grip.
The scabbard again was closely based on an existing effigy with a couple of elements from other contemporary pieces and again was dyed and painted to be suitably garish for the period - it was important to be noticed. I then went on to make buckle, strap end and chape to suit. These pieces are now available here
http://www.todsstuff.co.uk/todsfoundry/scabbard-fittings.htm
Shields from this period were very heavily curved, more so than I have made before, and so this was covered inside and out in my customary linen and gesso and fully harnessed. Unfortunately I didn't seem to take any pictures of the back. I have made a 3D decorated shield before and this again seemed like a good opportunity to make another and so the bend argent and the lions rampant were raised.
Overall I am pleased with the rather 'showy' and garish nature of the set and hope again to make some pieces that to modern eyes are totally over the top.
I hope you like them.
Tod
---

Attachment: 94.2 KB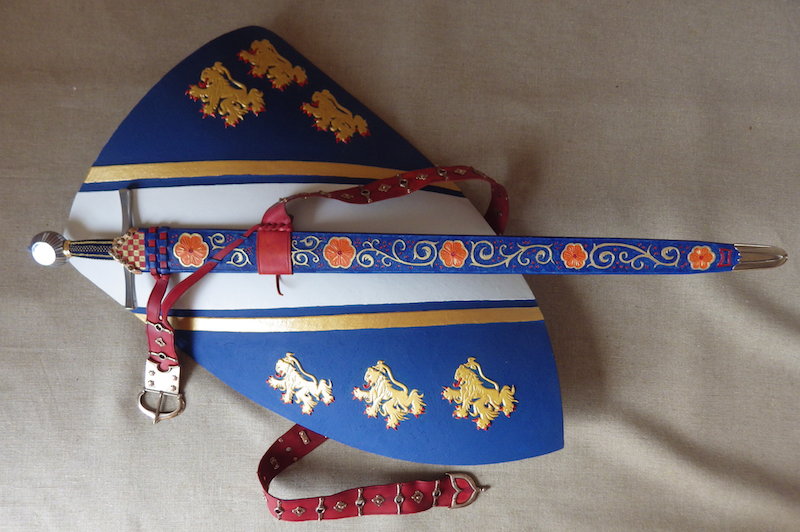 Attachment: 92.48 KB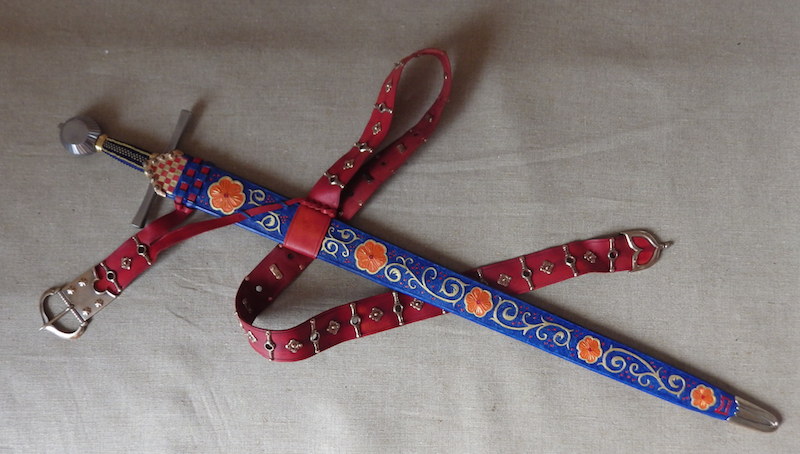 Attachment: 112.44 KB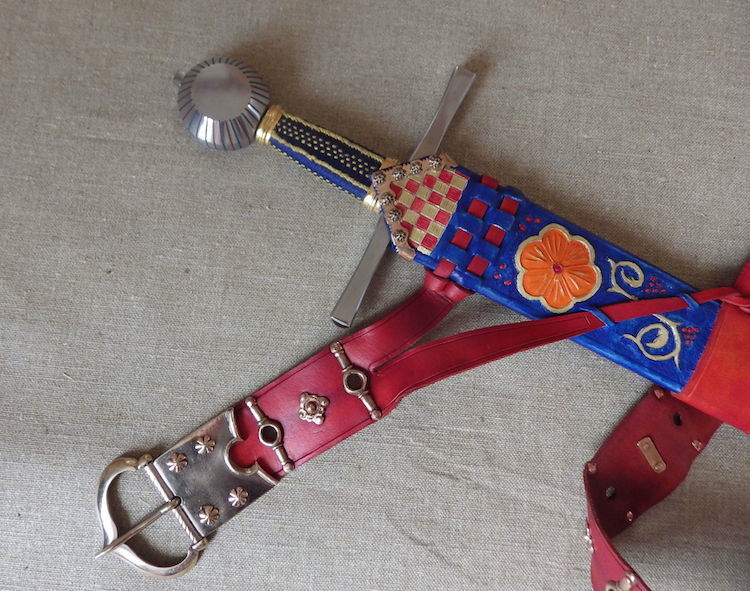 Attachment: 112.34 KB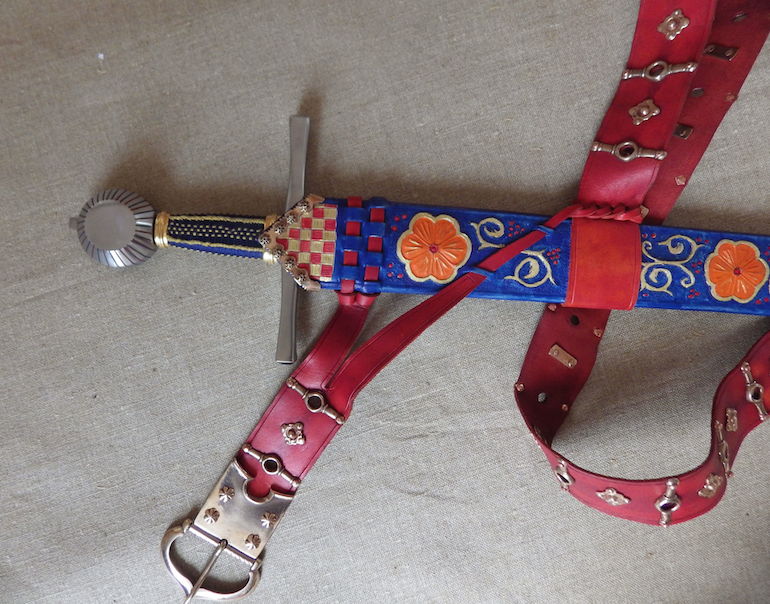 Attachment: 113.58 KB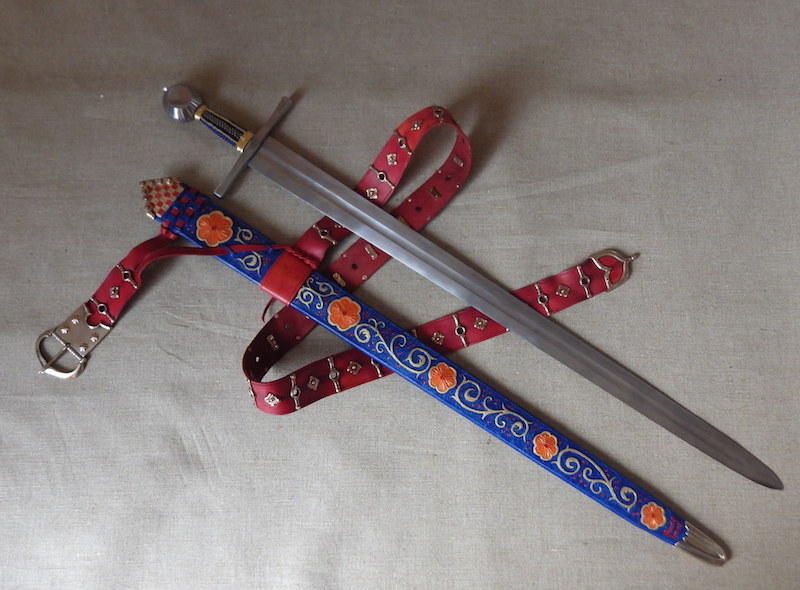 Attachment: 113.96 KB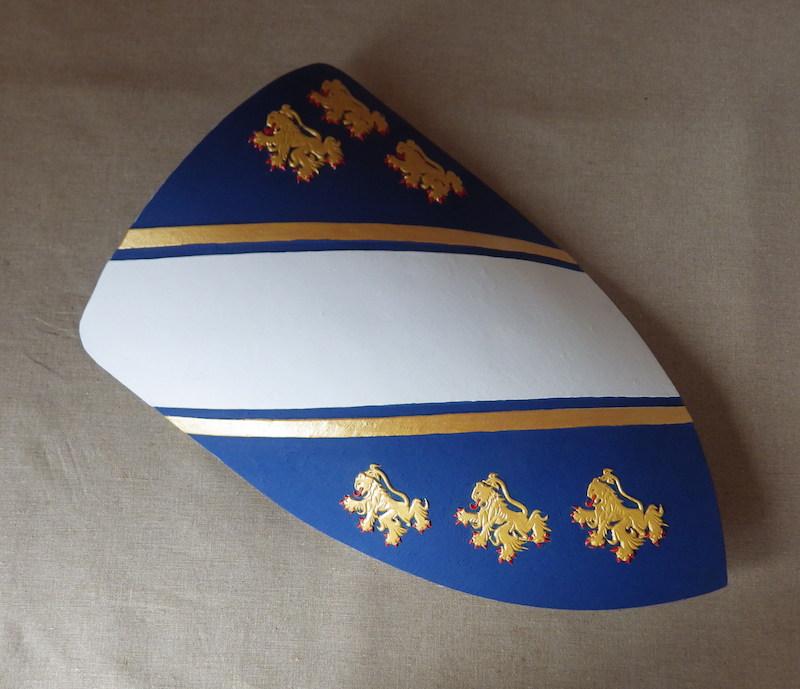 Attachment: 131.34 KB