last week I was proud to have finished the forging of 2 pipe hawks and 1 wrapped axe head during a class with Mark Yanko at Touchstone Centre for Crafts. a truly great facility bringing in experienced smiths to help teach artist and craftsmen in the area the principles of blacksmithing.
This was the second class I took with the facility this year, earlier I took a beginners course to get familiar with hot work and fire tending. the focus of this second class was the forging of a traditional pipe hawk using some traditional methods, and other more modern ideas.
when I first got there Mark laid out some of his previous work most of which were pipe hawks, and I though to myself, we'd probably be doing some kind of slit and drifted axe head, this pipe hawk looked pretty complicated. but I was wrong - first thing we did was make a set of barrel gripping tongs to hold the 'bowl' of the head as we worked it.
his process for creating these was pretty simple once you work it out. we used some 1in tube steel. he briefly talked about a process done with old gun barrels done during the period, and we got started. basically we crimped a portion of the tube off to create the bowl. crimped a section after it where we would later slit and drift the head. after ward we then fluxed the remainder of the tube and forge welded it shut. after the weld took, we forged out the blade. forge welding a hi carbon steel bit into the blade was possible, but he asked me to wait on that idea as he was going to use it in another area of the course.
strangely, my first head was a little small I couldn't seem to get any broadness out of the material, and then I noticed I used the wrong size stock, so I quickly set to work making another which came out a little broader like I wanted.
the second part of the course was making a fold over or wrapped axe head with hi carbon bit. for this one I chose a monster piece of stock, I wanted to get a nice bearded axe head. my wrap worked well, my forge weld on this one was truly tricky. it just didn't seem to want to take no matter how much heat flux or pounding. I was pretty surprised that he Mark inspected my work that he suggested that I work hot, and tap the weld. after getting showered with flux for a while, the weld finally took. next came the addition of the hi carbon bit. I brushed up my wedged bit really good this time, and the weld took easier this time. I tried to get this wrapped axe nice and bearded, but somehow it just kept getting longer as I cross peened it. it was only later that I realized I should have upset the stock before wrapping it so I could have more to work with. I wasn't unhappy with it, but I did turn out about 10 in from blade to eye. I think it may have to turn into a long handled axe.
---

Attachment: 99.8 KB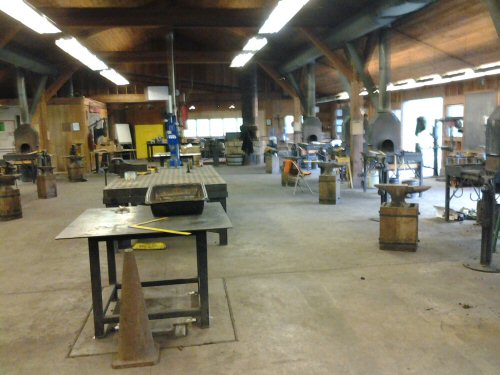 pic of the shop. 12 forging stations, and just bout every tool you can think of was available to us. I used the big blu power hammer a lot when making my tongs.

Attachment: 91.48 KB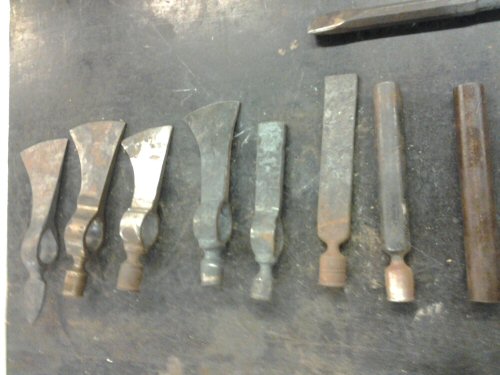 the layout of the pipe hawk process.

Attachment: 108.88 KB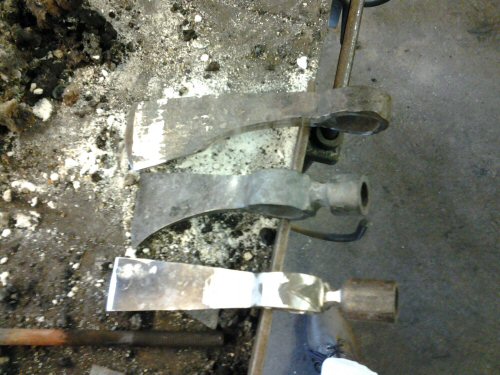 the one on the bottom was my first pipe hawk, in all its shape is unique, and the one on top is the wrapped head.

Attachment: 47.5 KB


working with photo shop yesterday, I had the idea to weld a back strap to the wrapped head. i'm leaving this head with the rough forge look. make it look a little Roushy.