---
I have for sale an entire lot of books (11) related to swordsmanship / WMA / HEMA
I have multiple copies of some of these titles so I don't need these listed here. These are all in good shape. Some are practically new. I want to sell it as a lot.
SPADA II: An Anthology of Swordsmanship
by Stephen Hand (Editor)
The Medieval Art of Swordsmanship: A Facsimile & Translation of Europe's Oldest Personal Combat Treatise, Royal Armouries MS I.33
by Dr. Jeffrey L. Forgeng
Arte Gladiatoria Dimicandi: 15th Century Swordsmanship of Master Fillipo Vadi
by Fillipo Vadi
Highland Swordsmanship: Techniques of the Scottish Sword Masters
by Mark Rector (Editor)
Methods and Practice of Elizabethan Swordplay
by Craig Turner, Tony Soper
Stage Combat: "The Action to the Word"
by William Hobbs
Fighting with the German Longsword
by Christian Henry Tobler
The Swordman's Companion: A Modern Training Manual for the Medieval Longsword
by Guy Windsor
Secrets of German Medieval Swordsmanship: Sigmund Ringeck's Commentaries on Liechtenauer
by Christian Henry Tobler
Medieval Art of Sword & Shield: The Combat System of Royal Armouries MS I.33
by Paul Wagner, Stephen Hand
Highland Broadsword: Five Manuals of Scottish Regimental Swordsmanship
by Paul Wagner (Editor), Mark Rector (Editor)
MY ASKING PRICE FOR THE LOT: $200
I prefer PayPal. Add 3% mark-up to offset PayPal fee. Shipping is extra.
Questions or comments can be Private Messaged to me here on myArmoury.com or via email.
[ Linked Image ]
---

Attachment: 59.72 KB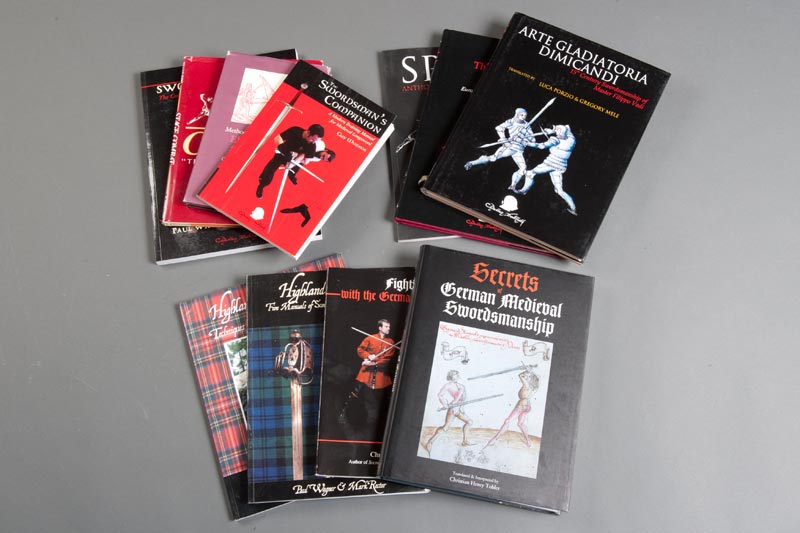 Attachment: 53.89 KB