---
I bought this from Crusader Monk some months back and now I have a chance to get back a sword I let go of and want back badly! Here is part of the original post for the sword and pics.
I have only cut one bottle with it then hung it up so there is no wear or rust anywhere so it might as well be fresh from Crusader Monk.
I have this like new Windlass European Sword (Type XII) for sale. This sword has been improved upon in many ways.
- Peen has been blended.
- All furniture has had Windlass clear coat protectant removed.
- All furniture has been given a medium grey aged patina.
- The blade has had the Windlass clear coat protectant and 'Made in India' decal removed.
- The blade has been honed to a razor sharp edge, and when I say SHARP, I mean SHARP.
- The blade has been given a 400g satin finish.
- The grip has been completely redone in dark antique red with risers and cord wrapping added.
Stats are here:
http://www.kultofathena.com/product.asp?item=...pean+Sword
I would like to get $160 plus shipping and your getting one of the better MRL swords with upgrades for less than KOA.
---

Attachment: 40.94 KB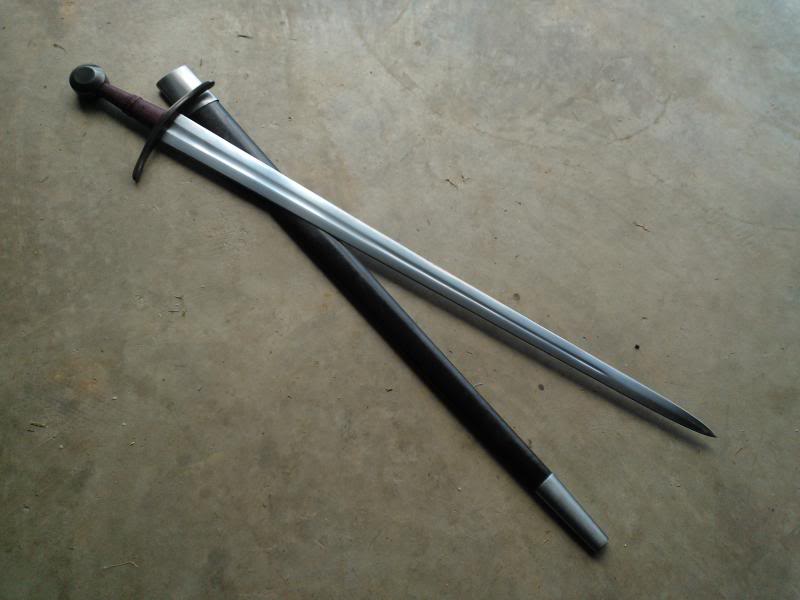 Attachment: 51.46 KB