---
I am selling my Del tin made 13th century replica sword, (model 2131) and custom made scabbard (armourer Peter Fuller made the scabbard).
I got Peter the sharpen the blade for me and I hope the photos show it now has a finely honed cutting edge - would be wonderful to demonstrate it's efficiency in 'cutting tests'.
The hilt has the obligatory 'Brazil Nut' shaped Iron pommel and a cruciform Iron guard. The grip has been re-covered with a more interesting and pleasing rough-edged leather hide. The beautifully made custom tan leather wood cored scabbard bears highly polished, cast plates for it's sword-belt end plate and belt buckle. Both the sword belt & scabbard are substantially made and in excellent condition, as it the sword.
Would be perfect for the Battle of Lewes and Evesham, or earlier periods.
Sword Weight = 1550 gr Overall length of sword = 103 cm
For sale to U.K. buyers only please, due to postal restrictions.
£430+pp
---

Attachment: 92.36 KB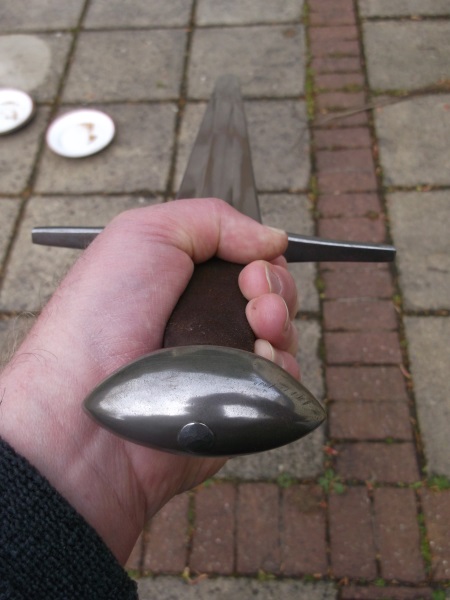 Attachment: 94.63 KB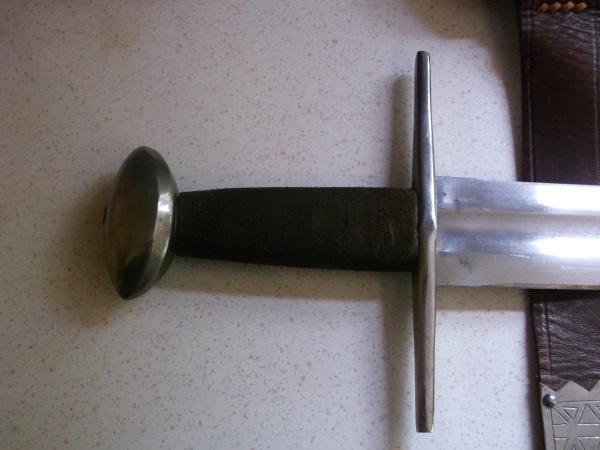 Attachment: 121.58 KB