---
Up for sale is a beautiful Japanese matchlock musket dating to the early 1800s. It measures 51 1/2" in length and has brass, copper and silver inlay in the barrel. There is kanji near the breech that says "Tsuruga prefecture" and has a westerner shaped figure holding some intertwining scrollwork along with a crane or other long-necked bird in silver. There are three other spots where there is decorative scrollwork.
When I originally purchased this, the stock was quite dirty and not terribly impressive looking but after some Murphy's Oil Soap, Old English and TLC, it is amazing. It has some great grain showing and it was registered in 1872 due to the kanji carved on the stock behind the barrel.
It has 壬申 二五六四号 免 (Meiji 5th year registration number 2564).
The lock works and functions fine with no issues. The ramrod is present and the original piece. Overall, it is a great piece!
I am asking $1400 shipped anywhere in the US.
---

Attachment: 73.97 KB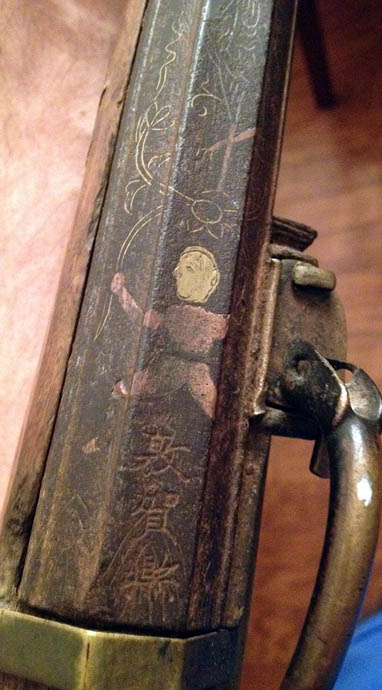 Attachment: 144.75 KB
[ Download ]


Attachment: 185.05 KB
[ Download ]


Attachment: 141.52 KB
[ Download ]


Attachment: 97.9 KB
[ Download ]


Attachment: 123.91 KB
[ Download ]


Attachment: 83.02 KB
[ Download ]