---
FOR SALE or TRADE: Villinges bronze cuirass
I keep re-discovering this in my loft, still boxed since it was made c.6 years ago.
Hand forged by Steffan at
http://www.noricum.de/bronzezeit/
Original example from Villinges, Haute Savoie, Switzerland.
Early iron age dated cuirass in tin bronze, though I understand little dating evidence with the find.
Fewer similarities with the Argos cuirass than the Marmesse armours so perhaps of an earlier date and the only find I believe between the very fragmentary Czaka cuirass dating to c.1200BC and the Marmesse armours from c.700BC. Peter Connolly painted himself in it as Odysseus in 'The Ancient Greece of Odysseus'.
Made to fit 40" chest, 6' tall, some leeway especially as the torso is relatively short compared to later torso armour.
I have no need for this armour, it sits unused.
Previous advertisement garnered limited interest in a purchase so I thought I'd offer it for sale or trade.
Not sure what my expectations are, I might be tempted by a sword or maybe a good
great helm
, leaning towards the late 13th to late 14th century at the moment. But then perhaps something else or indeed just cash would do equally well.
Shipping from the UK will need to be negotiated.
---

Attachment: 46.43 KB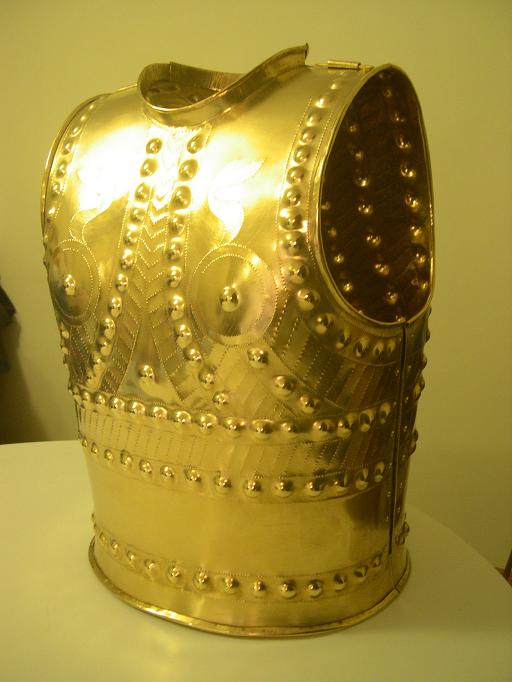 Attachment: 49.63 KB