Posts: 150 Location: Malaysia

Wed 07 Aug, 2013 11:43 pm
Halberd in 13 century?
Was the Halberd being used at all?

If it did, how did they look like?
Posts: 1,291 Location: Jackson, MS, USA

Thu 08 Aug, 2013 6:51 am
Posts: 56 Location: Australia

Thu 08 Aug, 2013 6:17 pm
Hi Matthew Paris drew something akin to a halberd, in the hands of mongols.
---

Attachment: 18.41 KB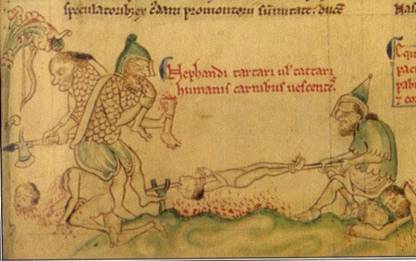 Posts: 150 Location: Malaysia

Thu 08 Aug, 2013 6:38 pm
Ah, thanks for the info

Now I know what to get.
Page 1 of 1


You
cannot
post new topics in this forum
You
cannot
reply to topics in this forum
You
cannot
edit your posts in this forum
You
cannot
delete your posts in this forum
You
cannot
vote in polls in this forum
You
cannot
attach files in this forum
You
can
download files in this forum