Another year at the Manville Sportsmen's Club
http://www.manvillesportsmensrodandgunclub.org/
Although the club's calendar has not been updated, an email confirmed that (as usual) the first weekend of the fall equinox will be a two day event of activities. There is no rain date or changes at this time as of posting.
Todd Pelletier had enlisted my interest back in 2003 and we have been displaying swords and sharing common interests to the public for more than a decade now. There will be at least two tables of swords to handle, both modern and antique. There are generally targets to cut and new additions to the display every year.
A family friendly venue with some food and varied vendors. The club activities and food run on a ticket basis. There are tickets for the rifle range, etc. Hawk tossing, archery and whatever sets up. A local Native American drum circle are kind of hit or miss but neat when they do show up. Some years have seen re-enactors of the colonial period set up and even camping for the weekend. A blacksmith has been set up here most years. Music is typically an Elvis impersonator on Saturdays and fiddles on Sunday but one can never say that is all that will be played.
The club is situated a couple of blocks from the main road and shuttles run between the public parking lot at the Manville Memorial Park to the club. If someone wants to join the tables to share in the display we already have set up, it is a good idea to be there early (by 0800) both days and to unload, drive straight ahead to the end of the road. We will be under the pine trees immediately beside the clubhouse.
Other vendors are welcomed by the club. Any specific needs or interests should be addressed to the club itself. AFAIK, there is no fee for any other demonstrations or displays setting up. Check directly with the club if setting up as a vendor, as there may be a small fee. It is a first come, first served as far as space goes but the main field is rarely overcrowded and there are other spots available further up the hill to the range. The club "safety vests" can direct any to the "command" as it were. If I am aware of others planning to join the sword tables, let me know to alert those guys, as they will be up at the main public lot by 0800 +-. Earlier than that, there shouldn't be a problem with just driving straight in. The main activities are generally through by 1800, both days.
I would expect the club to have a flyer up on their site just about any time now.
Cheers
---

Attachment: 184.03 KB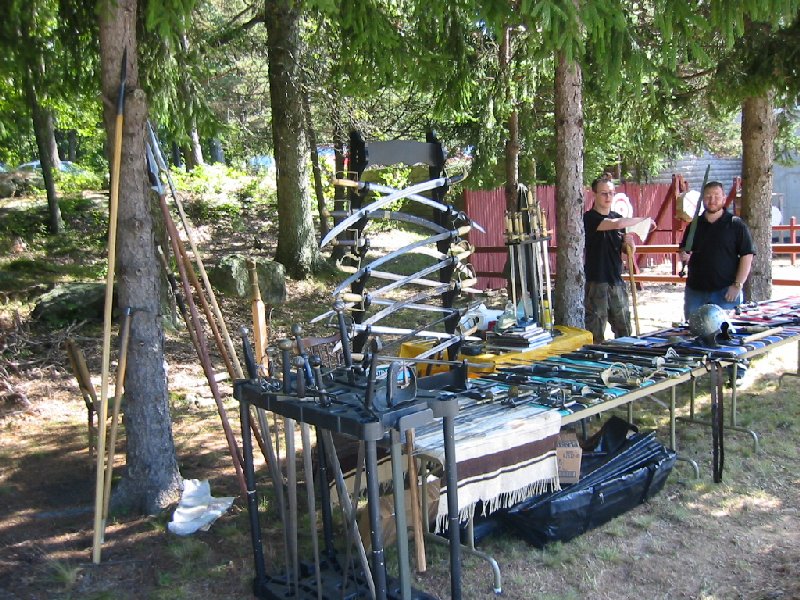 Attachment: 178.58 KB