this is one of the projects I have started recently - folding knives. one will be inspired by a piece auctioned some time ago at HH - 14./15. century German folding knife. it has an interesting handle construction, from folded piece of metal. I have decided to use a different shape of blade. (1st picture)
The second one will be based on a rather well-known find from London, with handle made from antler.
Both have a very simple construction, but as it is my first try on folding knifes, I did not want to start with more decorative pieces.
Second picture picture shows two blades, cut from the spring steel (N 14 260) by angle grinder, and roughly shaped.
after that, I had smoothed the shape by hand-files and sand paper, and had them hardened and quenched in oil - thatīs the last one.
more to follow...
---

Attachment: 21.14 KB



Attachment: 40.27 KB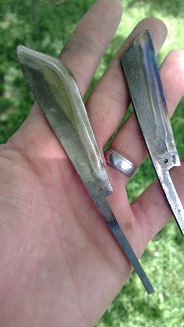 Attachment: 44.02 KB