Hi there, we have had a sword hanging in our living room (was in our attic for some time), but we are now looking to shift it on as we are moving house. We have no idea what it was used for (probably ceremonial) or the value of the sword, also we are unsure if you can sell swords or have to under specialist auctions? I have enclosed picture attachments and the description of the writing on the sword blade.
Writing on the blade :-
In appointment to her majesty queen Elizabeth II Sword Cutters
Wilkinson Sword
London
Made in England
Has an etched design down blade with knight, lion and other designs; blade is blunted. Ceremonial?
Gold gilded cross handle, blacked enamelled spiral handle & brass/metal end, no sheath.
Hope to hear from somebody soon! :)
---

Attachment: 249.67 KB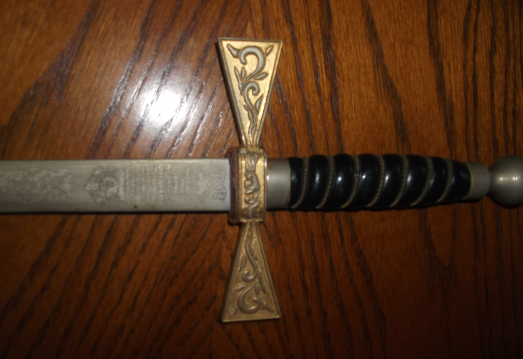 Sword close up