When commissioning a custom order, I like to make sure the Artist is just as passionate about the project as I am. So typically I have provided 2-3 ideas for a project and then let myself be guided by the reaction I get. The idea pictured below was somewhat overdeveloped –indeed a complete design- because it's something I've been working on for several years. After seeing this design Craig Johnson, production manager at Arms and Armor, remarked:
'The one you sent specs of would be a very sexy beast and I like it a lot.' So that was it, we were both good to go.
Here's a bit of background research on the sword. As a professional author myself I feel shy about repeating too much published material and scanning a whole lot of photos without permission, so this is just a summary with references for anyone interested in the details:
The original idea came from figure 56 in
Oakeshott
's 'SAC'. This shows a small drawing (from a rather obscure source) of a wide blade double-fuller sword with a ridged type E pommel. It was said to be from Hungary. Unfortunately only the upper half the blade is shown, so it's hard to see how long the fullers go and the shape of the tip, but its visible profile looks XIII. The pommel seems diminutive for the size of blade, but otherwise I have long been intrigued by this sword.
The next thing I could find in the same ball park is Figure 849 of Nicole's 'Arms and Armor of the Crusading Era', which shows a mid 13th century sword found in Slovakia. It's quite similar but has a single fuller and larger pommel. Nicole thinks it originating in Germany and, like Oakeshott, compares it to one of the sword sculptures in Naumburg Cathedral, which is mid 13th century.
The jackpot came with Aleksic's 'Medieval Swords from South Eastern Europe'. He says there is a family of swords of this type, with XIII blades (often double fuller). He describes the pommel type as E1 on page 23, which is a more angular form of the classic E and usually has a central vertical ridge on each side. Pages 41-44 then go into much more detail of the swords. Table 7 provides an overview of 6 swords (with details listed in the catalogue at the back). The grip length ranges from XIIIb to XIII dimensions. Plates 1-2, 3-2, and 4-3 provide good drawings of three. The blades of most are broken (except for one huge double-fullered sword that looks a bit ugly to me). Most of these were found in Transylvania* and he calls this a local type related to a 13th century Saxon colony with ties to the Teutonic Knights.
So the basic idea comes from Oakeshott, with a bit of peculation and personal taste about the end of the blade, with further hilt and blade measurements from Aleksic. (I particularly like the pommel shown in his plate F-3 which has a very subtle curvature on the top of the 'diamond'.) I took the bade width from Aleksik. Most of these swords appeared to have very long blades but were broken so when thinking of what would work on an XIIIb blade I was influenced by other known blades of this type.
It will probably be some time before we see the final product, but Craig has just sent me an early pic of the pre-heat treated blade (see below). I'll update this as things move along. Enjoy!
______________________________________________
*leading one to speculate, of course, that these large blades were specialized for beheading vampires. ;)
---

Attachment: 37.32 KB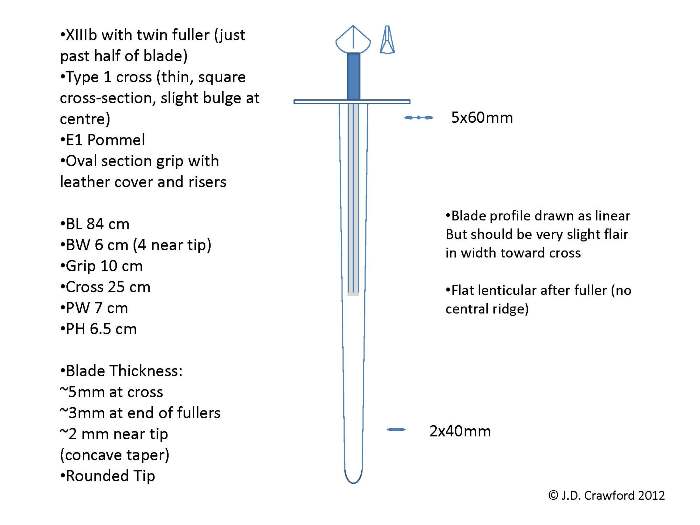 Attachment: 40.09 KB