---
Hi Guys
the item is sold from Germany, so this might be more of interest to people in Europe, but i would be willing to ship overseas if buyer pays the extra shipping.
This is a hawk made by Viktor Berbekucz. I bought a lot of items from him in the past and they are very well made. There are reviews of his work up in myArmoury.com
The hawk is made out of M1 steel and differentially hardened. The handle is hardwood. The top of the blade has decorative file work added. The 4 sides of the spite are not sharpened but that does not hamper the effectiveness of the spiky side in any way. The axe side has a slight hollow grind smithed into the blade . The edge was professionally sharpened to a sturdy convex edge. In addition to that a mosaik pin was added to the hawk to further secure it to the shaft.
The lower edge is not fully sharpened, hooking or ripping techniques are still possible, as the beard is quite pointy.
The grip was wrapped with high quality paracord ordered from the USA by my-paracord.de Its a two-tone wrap and based on the strider-esk way of wrapping handels.
The handle of the hawk had a small steel plate added to it by Viktor. Its purpose is twofold. For once it adds a striking point if it gets really close up an personal and it adds a counter weight to the head making the axe very fast in the hand.
Originally it was intended for a woman but.. well.. things took an unexpected turn ... anyway.
Here a few numbers:
Weight according to my kitchen scale : ca 800g
Total length: 33 cm
Head Length : 18,5 cm
Spike length: 7 cm
Axe length : 7 cm,
Cutting Edge : ca 7 cm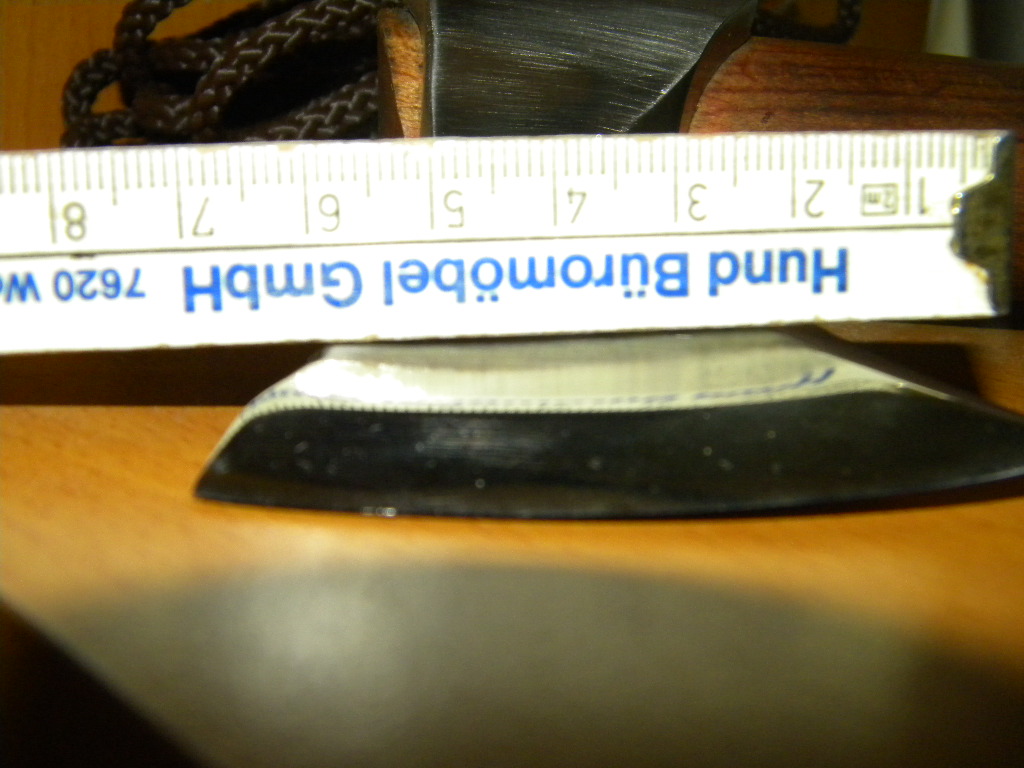 Any questions, please don't hesitate to ask. Its a study tool as well as a weapon. Useful for camping as well as collection or trips to far out countries.
PRICE:185 € plus shipping , i eat PayPal fees.