---
I am selling my custom wrestling jacket made by Jessica Finley of Fühlen Designs. It is the exact jacket that I did a review of in this video:
http://www.youtube.com/watch?v=1qRB6r8CpVY&feature=plcp
The jacket is navy monk's cloth, and should fit anyone who wears a size large. There is a lot of leeway in sizing because you can tighten or loosen the string fastening for the front closure. I've used this jacket for a few years now, and it is awesome, at VAF we've recently adopted a new uniform for our HEMA program, which includes new wrestling jackets (still by Fühlen Designs), therefore I'm passing this jacket on.
This jacket is in mostly good condition, but there is some tearing just above the rear right armpit (see attached picture below). This is an easy fix for anyone with a sewing machine (or your local tailor), but nonetheless I'm letting this go pretty cheaply due to this. Asking $115 (I believe I originally paid $250, if I remember correctly). This includes shipping to the continental US. If you are interested, please PM me. Thanks!
---

Attachment: 45.26 KB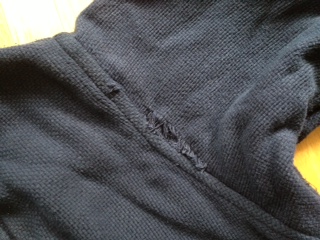 Rip near rear right armpit.