---
I have for sale a pair of Churburg style gauntlets.
The pair was made by Jacek Matera with the "soft work" of Kokoszwa Manufaktura (leather gloves and padding, sewing).
The pair on the website is my actual pair as noticeable by the hammermarks on the metacarpus:
http://www.gambeson.pl/medieval-on-line-shop/...tlets.html
The gauntlets are made from 1.5mm mildsteel. Fingers are thick leather with non overlapping steel strips. There is a thick padding of sheep wool between steel and leather gloves. The gauntlets are lined with leather for articulation of the wrist and for sewing the gloves to the gauntlet.
The armour fingers are attached to the gloves only.
The gauntlets were used for intensive steel sparring and held up quite well. Some dents are visible without any effect on the gauntlets usability. The left leather glove is in good condition but the right one is quite worn, although it will work for a while with some maintenance.
My hand width is 9.5cm; give or take 5mm, that will be quite ok for the fit of the set. You can adjust your finger, hand size by sewing the finger parts closer or farther out. There is enough overlap in the metacarpus to allow for adjustments.
But as I would pretend to have you sew in your own leather gloves, I will discount those from my asking price. They did charge 150€ for those gloves back then.
I am asking 250€ for the gauntlets, I will leave the leather gloves inside upon request but would also cut them out and send the padding and the steel alone. This is up to you.
I am shipping worldwide, please ask for shipping.
Any more detail shots or information needed? Please feel free to ask.
---

Attachment: 38.52 KB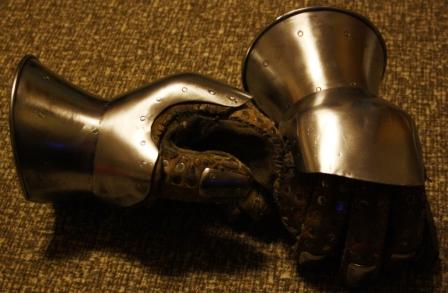 Attachment: 37.56 KB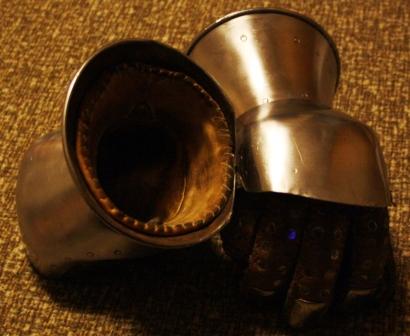 Attachment: 39.61 KB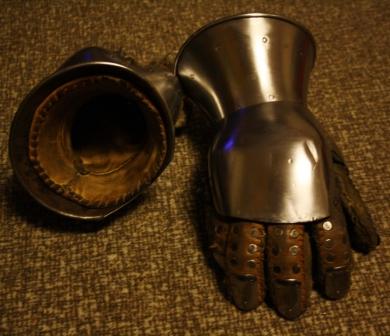 Attachment: 71.35 KB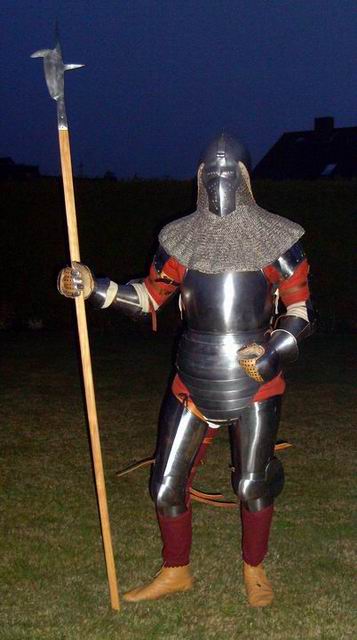 Attachment: 112.67 KB
[ Download ]