Hello everyone,
I recently had come into my possession this katana, now I don't know much about them, being mostly interested in western style swords and was wondering if anyone can tell me more about it.
It has a nice wooden sheath and handle, with decorative fittings on both, it's held together with one bamboo pin, it also has two small knives hidden in the sheath. The guard appears to be iron, and has a bull on it.
It was said to be a WII Japanese soldiers sword given to a medic who was trying to save his life. The sword has significant emotional value to me, but i would like to know more about it's style, origins, date, ect. anything anyone could share with me would be great!
I'm attaching several pictures, if anyone wants a better look at any part of it just say so and i'll upload whatever you need.
---

Attachment: 156.2 KB



Attachment: 238.36 KB


Attachment: 204.52 KB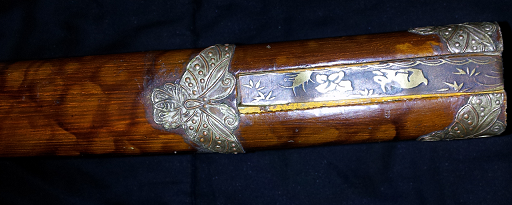 Attachment: 241.1 KB



Attachment: 210.09 KB



Attachment: 238.5 KB



Attachment: 168.86 KB



Attachment: 174.49 KB