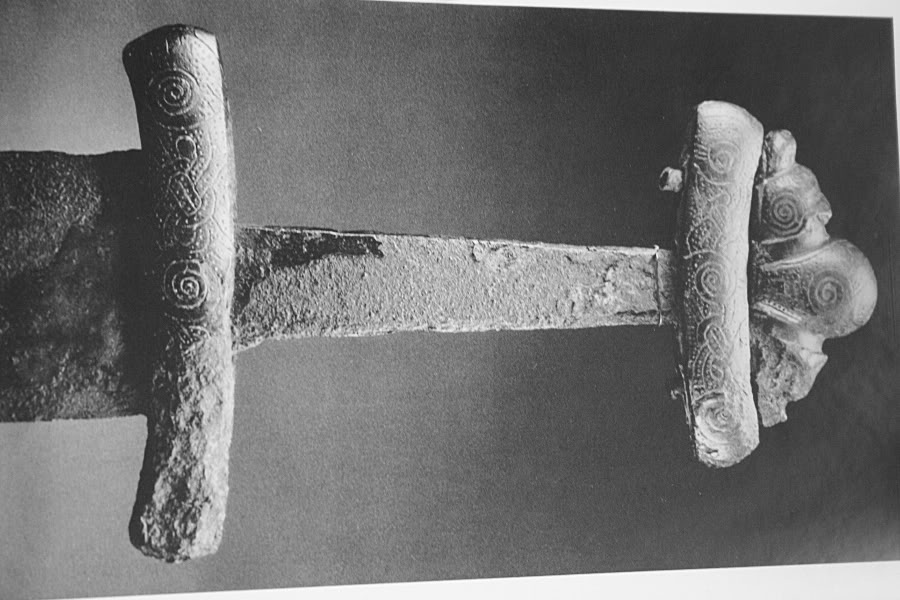 I saw this picture in a thread on another forum in response to someone trying to design a fantasy viking weapon with wolfs head motifs. This was posted as an antique, and what drew me was one- the inlay style/motifs(I am assuming, based on scant knowledge, that it is inlay), and two the lobes on the end of either side of the pommel appear to be bear heads, and were stated as such by the poster of the image.
If anyone knows of info on this blade, as far as a specific find/museum, further pictures, or anything, i'd be in your debt. I've considered having a blade made in this style, but was hesitant as the animal head motif there was fantasy, and my interests just aren't in that area. I see nothing to alert me to it being a fake, though it could be, i'm new to examining historical blades and wouldn't be shocked. Also, i'm not entirely sure the lobes are a bears head, but the poster of the image stated they were, and they do appear to be such...
I'm just looking for general guidance on time period, as well as any further examples of similar blades or this exact one. Guesses on any of it's metrics or such would be great, but given I have only the one pic, I'm not expecting much. I have pinged the original poster of the image with a request for further information, but am still waiting. Basically any input on this as a prospective piece to be commissioned that a smith might want to know. I have some, but i'm deferring to the superior collective knowledge of the community here.
Also- suggestions as to smiths who would be able to tackle this project would be most welcomed. I know Jeff Helmes will likely be mentioned, and he is definitely on 'the list' if this proceeds, but further names are welcomed.
EDIT- I'm also well aware this could be posted in a resource book like Petersen's
DE NORSKE VIKINGESVERD
that I just don't have on hand. I've been borrowing from friends and such and lazily not ordered my own copy or read cover to cover yet. So apologies if that ends up being the case, but appreciation in advance anyhow!