Greetings all,
I am hoping the brains trust here might help me with some questions regarding the origin, source and type of swords used by the French Huguenots, during the 30 years war? I have Huguenot heritage and have traced my family line to the late 1600's, as a result of which, my current research has me deeply focused on the 30 years war and Wars of Religion in this part of the world. I know that my families village in Picardy, was raised to the ground about 1635 when occupied by Spanish and Croatian/Hungarian Cavalry.
What I am trying to ascertain is this ...
# - What was a typical sword of the period fielded by Huguenots at this time?
# - What type of sword, blade and hilt construction would be correct for this period?
# - Where were French forces sourcing their blades from, typically at this time?
Essentially I am looking for a replica sword that will best represent the period, in honour of my Huguenot ancestors. From my limited research, it appears that two types of swords seem to be most probable for this era. The rapier type hilt, fitted with a broadsword blade and from what I can tell would appear to be cut and thrust/bastard swords. I would welcome further input in order to narrow the field.
I have a book called Imperial Austria which shows several swords fielded early in the 30 years war, most likely by Saxony forces that are listed as combination cut and thrust carried by Cuirassiers during the opening years of the 30 years war. The blades of these swords are stated to have come from Passau, hilts made in Styria though the blades are broader like the sword on the right. These swords from the Imperial museum look almost identical to the Windlass version below - those shown in the book are of the type that would have the hilt of the sword shown at left, with the blade profile of the sword shown at the right. The sword on the right has too short a handle and is unlike those in the Imperial Museum.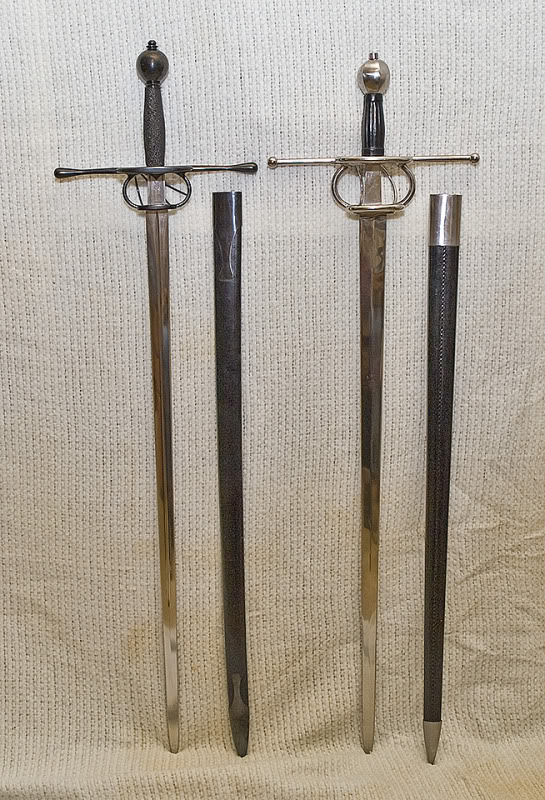 Would French forces of the period have used swords much the same as this, or were they favouring something different? Would the French have been sourcing blades from Germany and making their hilts locally or would they have been purchasing complete swords - if so where from?
Cheers, Simon.