They say if at first you don't succeed, try again. After about 25 unsuccessful attempts I have finally made a satisfactory pair of Turk's Head knots. What's more, I've figured out a functional process for making more turk's heads, so unlike some first successes i should be able to replicate this in the future!
Thank you to everyone in the various threads who have discussed this process before....the information here on myArmoury was invaluable in getting started. I didn't end up doing it quite like any of the descriptions I read here (at least i don't think so).....instead, after many many lopsided and lousy attempts I created a jig to help keep things even. I saw similar jigs on rope-typing websites, so it's not in any way an original idea. Denny Graves also gave me some good advice, which was to do a really tight twist to make threading the wire a bit smoother.
I'm going to include a few photos of the jig I made, but if its not clear i can maybe do a better job describing it. Basically i used masking tape to measure the grip circumference, then found a spot on my hammer handle that was about 3/16" less. Then more masking tape to create a precise measure of that spot. Draw a line around the handle on the tape. Then cut off the tape and divide the line into 7 equal sections. Then draw a line about 3/16" or less below the first line and divide that into seven equal sections, but offset from the first line. I did the measuring and dividing with a calculator and a digital caliper. Decimals are so much easier than fractions. Then put the tape back on the handle (in the right place) and drill holes where you've marked the lines. Pins (in this case tiny nails) go in the holes, and you have a jig that locates all the scallops of the turks head.
The actual winding of the wire is trickier to describe. I will try. This might need more pictures. I think it definitely helps to know how to do the turks head first....you have to know which loops you are looking for to duck under. Anyhow, you wrap the end of the wire around one pin to start, then begin to go around the outside of the 2nd (not the first) pin on the opposite side of the pin you are on. After going all the way around twice, you duck under the first full loop after you pass your starting point.
Having done that you will be set to continue around, but the very start of the wire where you tied it off will be wrong. This is easy to fix at the very end. I appreciate that makes little sense if its not right in front of you.
Anyhow, after you've gone all the way around a 3rd time, going alternating over and under, you can pull the pins and slide it down or off the mandrel to give yourself room to make the 2 full circuits and complete the turks head. Stretch it out with a pair of needle nosed pliers, and you're done.
Clear as mud?
The pictures are from my first jig attempt....the final knots came off two essentially identical jigs at different spots on the mandrel (of correct diameter for the two knots).
I've put these two knots on a rapier grip I just redid with a wire wrap....its a touch shorter than the original leather wrapped grip, and now with extra bling.
---

Attachment: 124.56 KB


Attachment: 108.5 KB


Attachment: 87.8 KB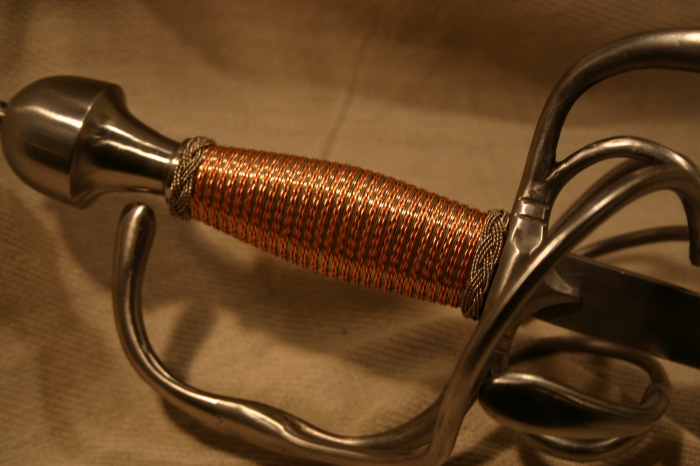 Attachment: 79.7 KB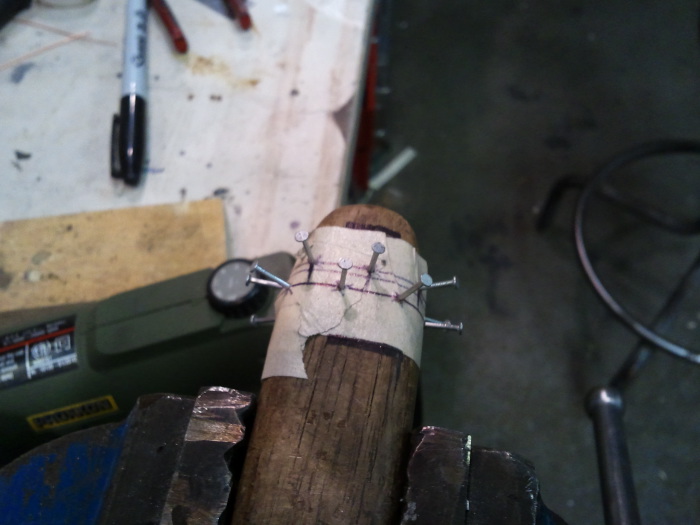 Attachment: 87.56 KB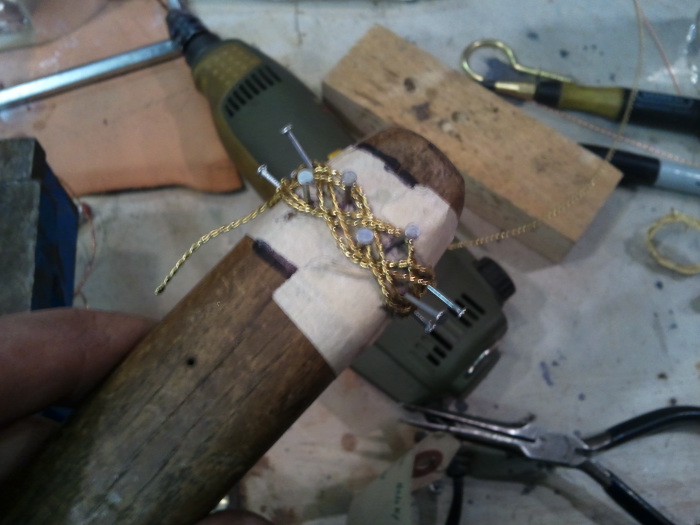 Attachment: 89.34 KB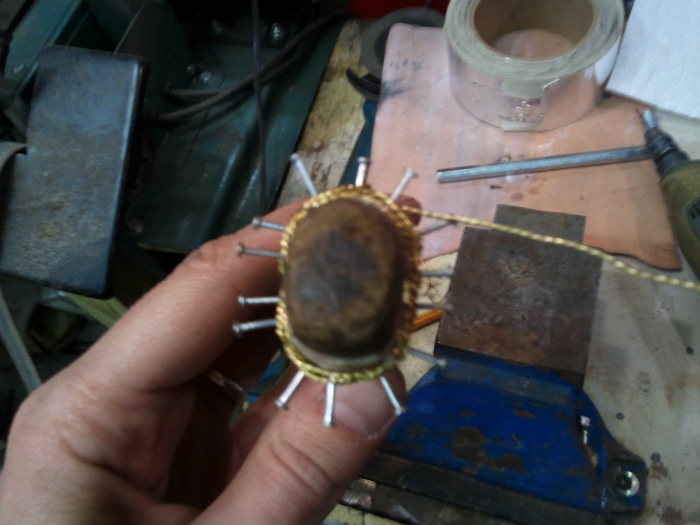 Attachment: 76.29 KB