---
I have recently discussed that my collection has grown too large. I have a lot of money tied up in my collection and it takes up a ton of space. I want to upgrade the rest of my life and that requires I make some hard choices and unload some of my prized possessions. Please help me raise some cash and make some room so I can move into a better place. You, yes you, can make a difference.
I have for sale an English Cutler by-knife and pricker (or eating set).
I originally purchased this set to fit into the scabbard of a
grossemesser
I own, but I went a different route and had a completely custom set created
en suite
. I no longer need this set. This is what I wrote about it in my
My Collection Gallery
:
Quote:
Small knives and other tools are frequently found during medieval archeology digs. Perhaps this is because they were so commonly carried by all classes of people. They were used as tools for everyday jobs, for cleaning and dressing game from the hunt, and of course for food preparation and eating.

Oftentimes small knives are found together with other implements such as a pricker. Basically a sharpened awl-like spike and a grip, prickers can be used for multiple tasks such as punching holes and scratching shapes, cleaning out small areas, honing a blade's edge, or for picking up food while dining.

This knife and pricker used together form a nice medieval-styled eating set. The full-tanged blades have ebony grip scales attached with brass rivets. A brass pommel cap is present on both as is a decorative brass element on the knife where the grip meets the blade. There is simple file-work on the tang at the blade's spine and a maker's mark is stamped onto one of its faces.

The set fits within a sheath made from two layers of leather stitched with a separate pocket for each piece. A basic geometric pattern is incised on its outer surface.




Measurements:



Knife overall length: 5.75"
Knife blade length: 3.25"
Pricker overall length: 4.125"
Pricker blade length: 3"



Additional info:



This can be used hung from the belt as an eating set or, as I had originally intended, put to use in the scabbard of a sword or large dagger. The knife is very sharp. This is a standard offering from The English Cutler and sells for around $125 US + shipping. It's in like-new condition and has never been used.



MY ASKING PRICE: $90



I prefer PayPal. Add 3% mark-up to offset PayPal fee. Shipping is extra.

Questions or comments can be Private Messaged to me here on myArmoury.com or via email.

[ Linked Image ]

---

Attachment: 64.12 KB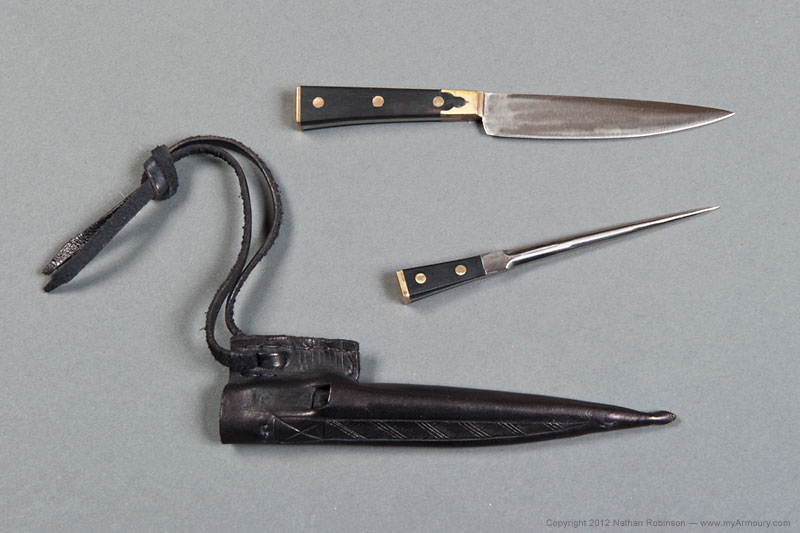 Attachment: 62.75 KB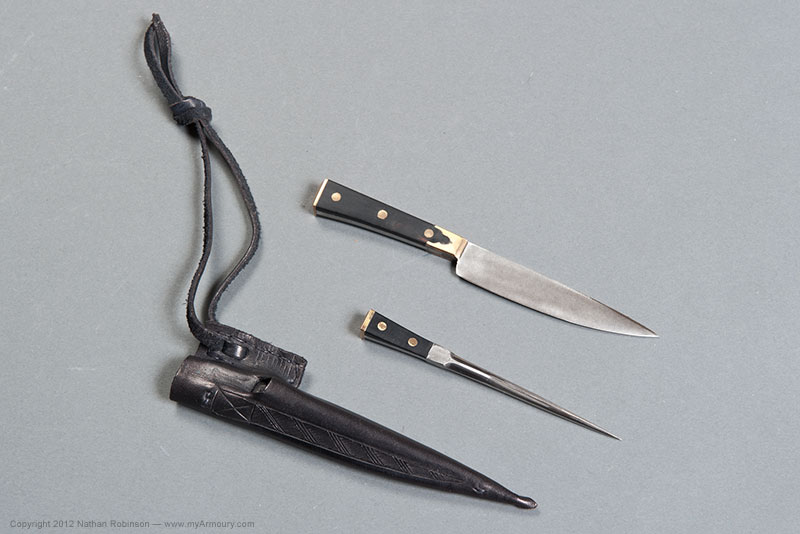 Attachment: 57.03 KB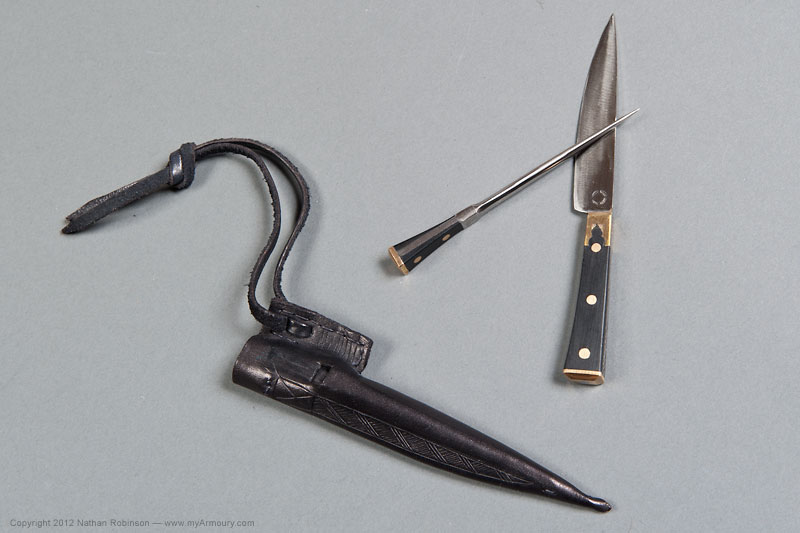 Attachment: 46.4 KB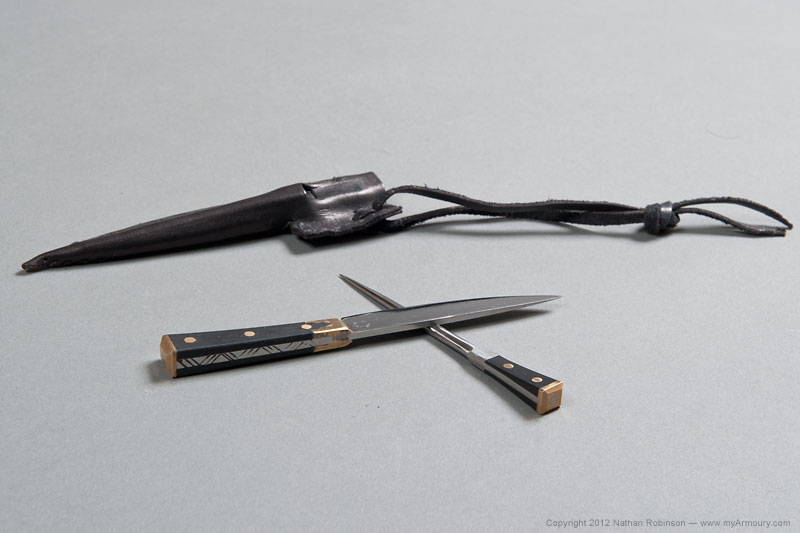 Attachment: 59.05 KB