Hi guys, Iím looking for some advice/ constructive criticism concerning a project Iíve been working on. my grandmother was throwing out an old silver crucifix that had a broken top on it, well I scavenged the thing and made a wooden backing on the then set it off with 4 steel plates lightly engraved with angels.
now Iíve seen work by David Lindsey done with an air powered nomadic hammer that gets really nice deep lines, and I also built myself a 45 degree 0 point engraver out of a nail punch that I used for inlay work, but for this project I used an engraving pen. its got a tungsten tip that scratches the surface of the metal really well, but doesn't get as deep as my punch engraver which I use with a light hammer. And yes I also tried an electric engraving pen - a dermal tool was too hard to control, and the hammering pen was also cumbersome.
I remember from a printmaking class I had back in college that engravings can also be made with acids after the initial image is scratched into the surface. Now that's going to be more of an etching process, but the next time I attempt to do something like this with this much detail Iíd wonder if I could use that process to get deep lines in the metal
Attached are the finished plates and final project let me know what you think of it.
---

Attachment: 98.7 KB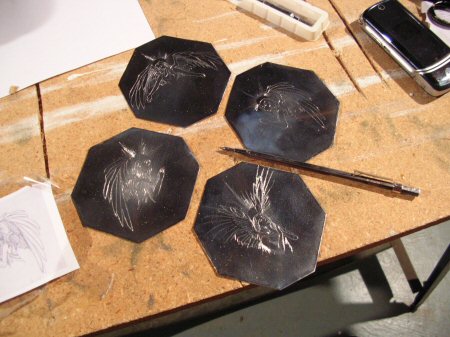 Attachment: 98.2 KB