Still no luck on the job front and trying to keep working on outstanding commisions in the interum ( 2 pairs of legs going out tommorow). I have the last two 11 inch steel bucklers now with handles and a conicle helmet to sell.
After having some inquires last week about buying the two remaining buckler blanks I had I went ahead and finished them out and offered them up at the begining of the week. With no responses I made up and installed two handles on them. These are the bodies I had left over and so will likely be the last there will be. Made from 16 gauge steel, with hand rolled edges and hand hammered and planished boss. They have a stiched fabric boss pad made from a natural wool felt shell and cotton batting filling and forged steel handle with 3/4 twist for better grip. Like to get $65 plus shipping. They will fit in a medium flat rate box and can be fit into one flat rate box if some one wants the pair. This is a fair bit less than we used to sell these for.
Second a conicle helmet. I goofed back at the begining of the summer on a fellas order and saw only " conicle helm " missing the fact that it also said " spangen ". Thus I went as far as hammering out the halves, welding them up and cutting out the brow band before realizing my mistake. I've finished this helmet out slightly different than what our standard offering was. The bowl is made from two halves of 16 gauge steel and welded. The browband and nasal are 14 gauge steel. The nasal is different from what we used to offer, sloping out along the curve of the nose, slightly cupped at the end and lightly decorated with chisel and file work. This helmet has a four panel padded liner and chin strap which includes my hand made buckle with light decorative filework and is stiched into place along with the belt loop. There is a hand stiched lightly padded leather piece on the belt for the throat. This is frankely the nicest one of these i've done and the last. I have a 24 inch head at the brow line and this fits me fine. Theres room for a coif and or arming cap if desired as the liner is adjustable. Like to get $200 plus shipping which is over 30% less than we used to sell these for.
No money was spent on new materials for these ( had the bar stock left over for the handles ). Paypal, money order or check fine. Feel free to ask any questions.
---

Attachment: 58.59 KB


Attachment: 51.21 KB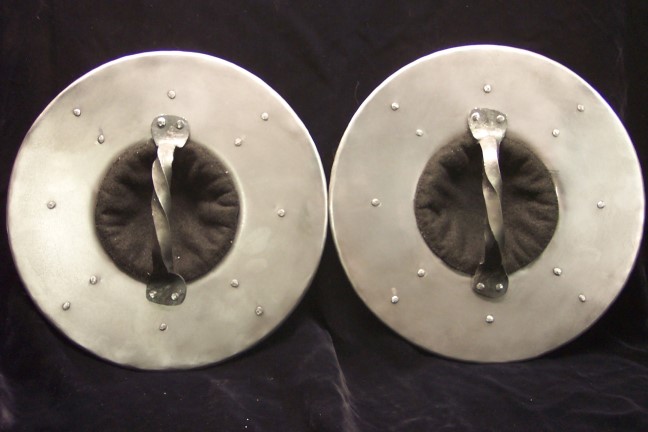 Attachment: 35.02 KB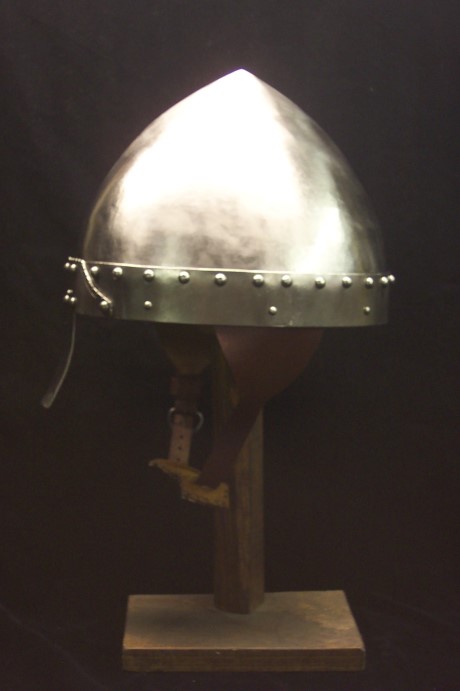 Attachment: 40.52 KB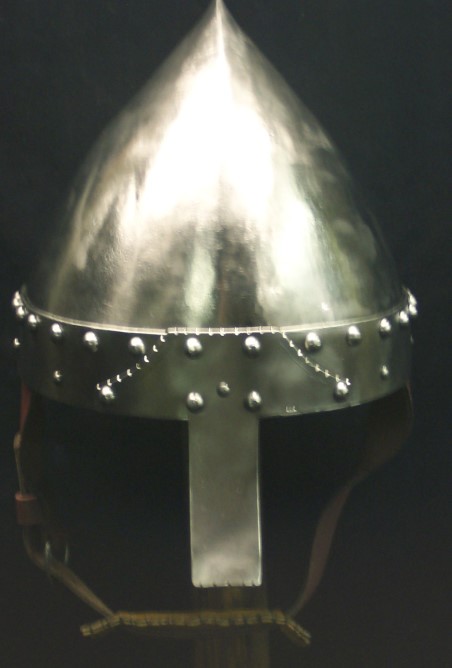 Attachment: 50.54 KB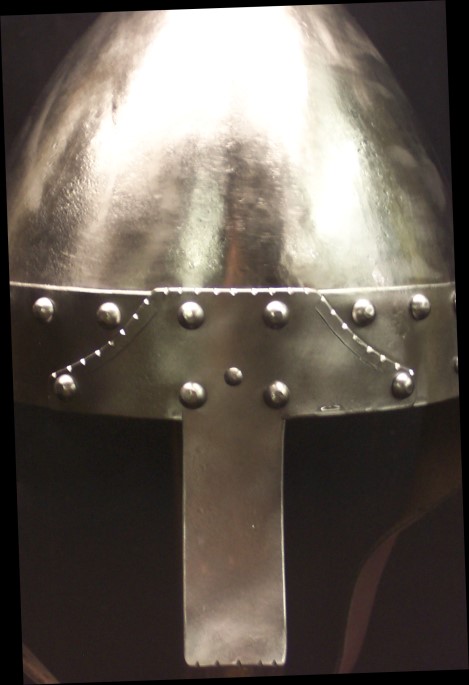 Attachment: 39.17 KB