---
Up for sale is a hira-zukuri profile katana purchased from Randal Graham's website approximately 5 years ago and was listed as the last traditional katana he intended to produce. The entire sword is sole authorship--the blade, polish, mounts, fittings and saya were all worked by Randal. Some measurements:
Overall: 41"
Tsuka: 10.75"
Nagasa: 30.25"
Width @ Machi: 1.125" (28.5 mm)
Width @ Yokote: 0.875" (22.2 mm)
Thickness: 0.25" (6mm)
Sori: 5/8"
The blade is forged W1 steel, long and slender hira-zukuri profile (incredibly sharp), but with a thick mune and strong presence. The blade was never used for cutting and only displayed, so everything is in excellent condition. The blade was given a full polish by Randal. The hitatsura or "full temper" hamon is visible, but extremely difficult to photograph due to the hira-zukuri edge geometry. On the backside of the blade, near the midpoint, Randal forged a small kanji (see photos), which means "Fire" as a reference to the appearance of a full temper.
Mounts include a hammer-textured and darkened tsuba, forged by Randal, matching browned steel fuchi-kashira set, and polished copper seppa and habaki. Tsuka combines black same with bar-shaped polished copper menuki, wrapped with brown epoxy impregnated cord, which is extremely stable and doesn't shift or move in handling. This type of wrap typical Randal style--combining modern technology with a traditional aesthetic. In Randal's words, the overall package is meant to convey a soldier's sword, utilitarian and bold, with everything leaning towards being a solid user.
Asking $2,600 shipped either US or Internationally, but would also consider offers. Paypal, MO or personal check preferred.
Please PM or email if interested. Additional photos are available on request. Thanks!
~Bryan
---

Attachment: 162.34 KB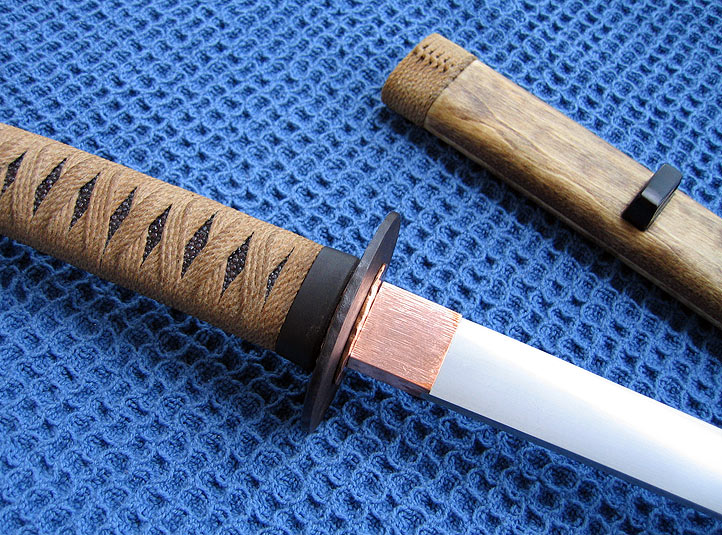 Close-up

Attachment: 63.06 KB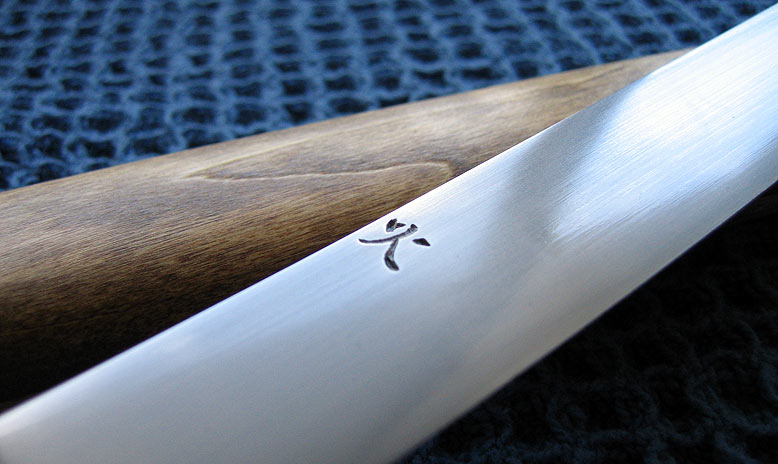 Kanji

Attachment: 119.45 KB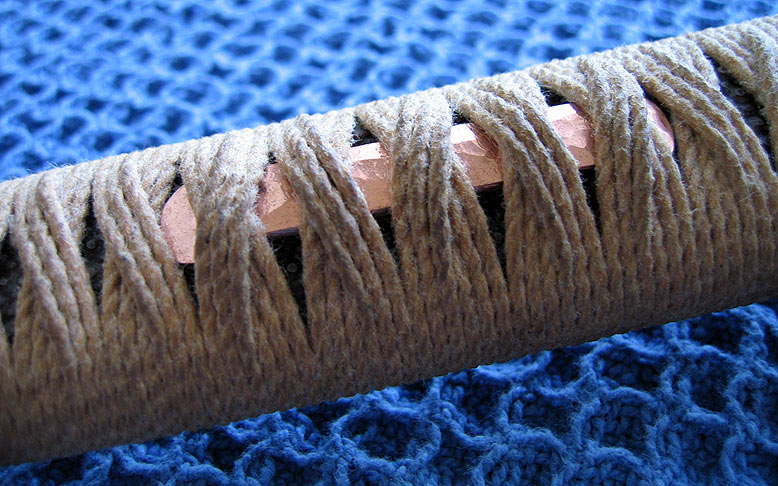 Menuki

Attachment: 238.26 KB
Overall [ Download ]


Attachment: 79.36 KB
Hamon [ Download ]