I have just finished this bow made in the style of late 15thC German hunting bows.
These bows were usually very ornately decorated with carved bone or ivory panels and often came with pompoms and braid and all manner of big money details.
The steels were always bound on with cord and the bows were loaded with a cranequin and had an ivory or antler nut, cord bound. The stocks were always quite short and rather bulky and have the triangular section for the rear of the stock. The bows almost always made use of bone for the table and often also incorporated horn for the cheeks and for further detailing. Bolt clips generally came in after this time.
I have tried to capture the essence of these bows here although skimping a little on the level of detail.
This bow is 550mm long and 600mm wide and draws to 400lb and uses a cranequin to span the bow.
I have shot the bow with armour piercing bolts and it goes well and puts about 80mm (3") through the back of the boss (which is a little old). I am waiting for the broad heads that will be shipped with the bow so I will not have a proper shoot until I have made these up, but I expect it to perform well.
I hope you like it
Tod
---

Attachment: 174.68 KB


Attachment: 186.51 KB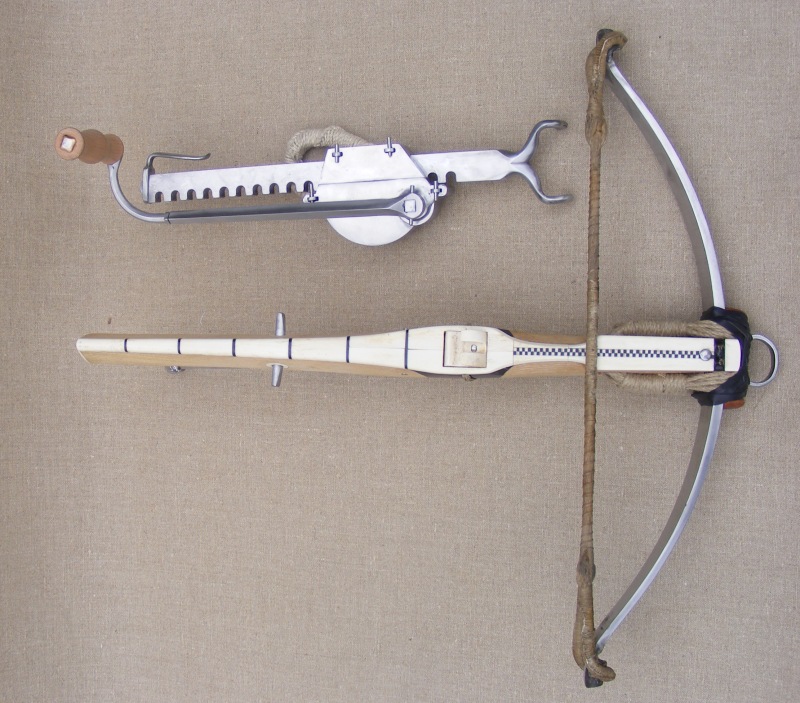 Attachment: 161.69 KB



Attachment: 196.86 KB