---
The piece is a Christian Fletcher Borderwatch in dark red/oxblood built on an Albion type XVIa '
Crecy
' blade.
This sword is very special to me, and the only reasons I'm OK with letting it go are
(1.)
to have the funds on reserve for emergency while I'm in Europe and
(2.)
that when I return they will help support another very special sword project.
This weapon is truly spectacular, and I love it.
I have not been able to measure the sword with pinpoint accuracy, but the stats are quite close to the Albion sword that sired it, reproduced here:
Specifications


Overall length: 44.75" (113.7 cm)
Blade length: 35.625" (90 cm)
Blade width: 2" (5 cm)
CoB: 4" (10.16 cm)
CoP: 21.5" (54.61 cm)
Weight: 3 lbs 1 oz (1.39 kilos)
The sword's in excellent condition; here are a few pictures for detail (click to enlarge):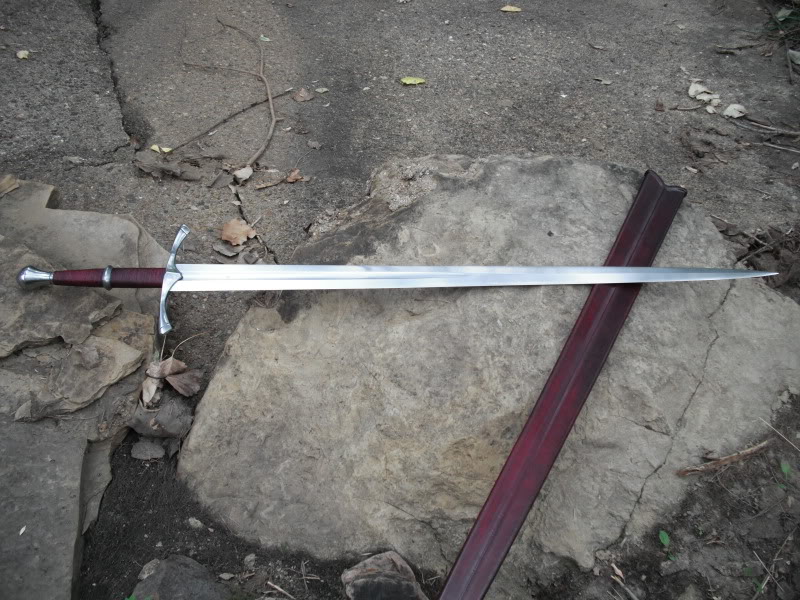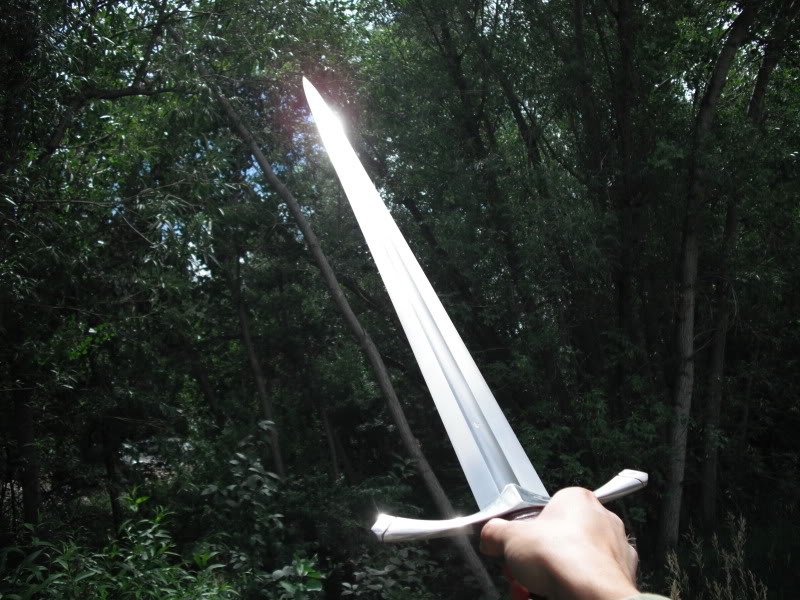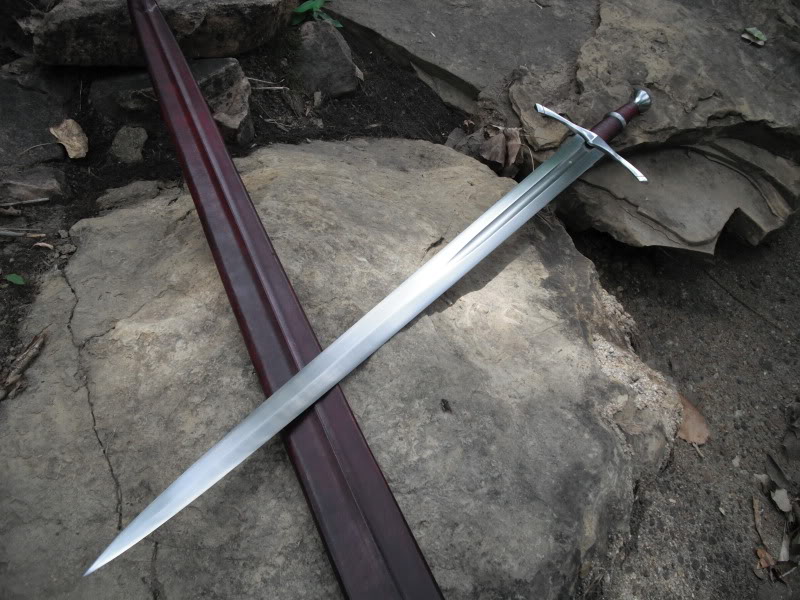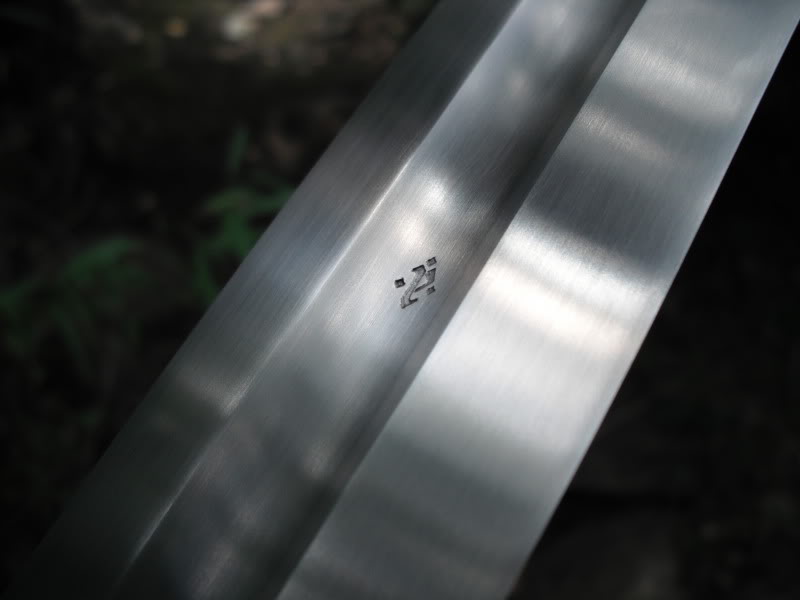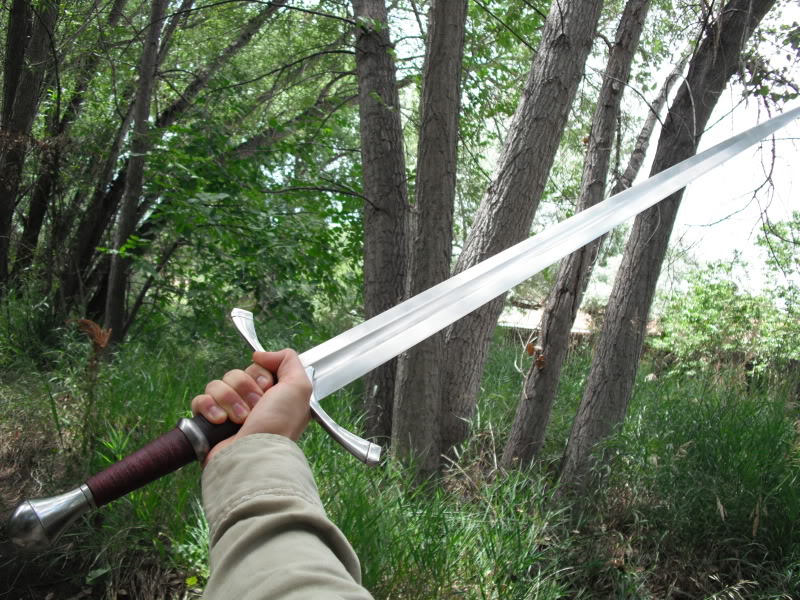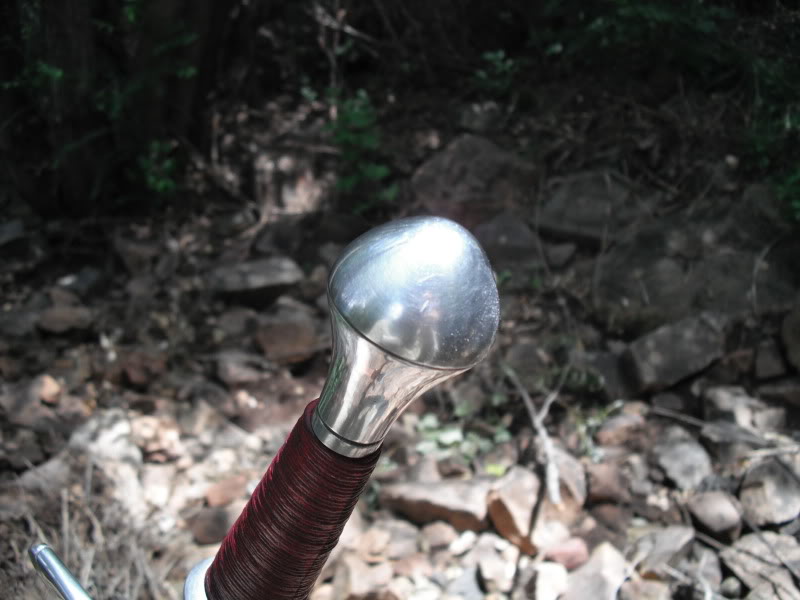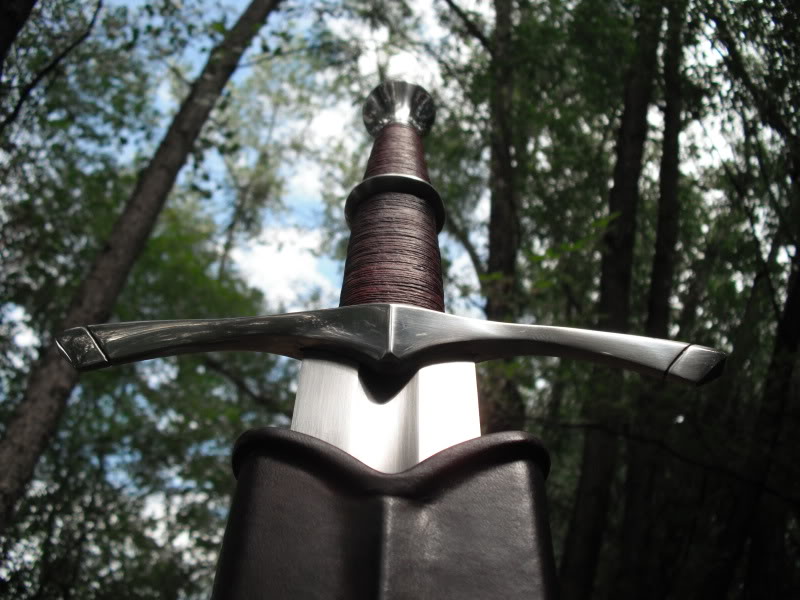 The sword handles beautifully, a true sturdy bastard sword. The blade has a proper "zero edge" that is seamless with the primary bevel and quite sharp. I have used it only for very light cutting (pool noodles) and the Borderwatch is an outstanding performer. How a sword feels is always tough to describe, but this can lend some insight: To paraphrase the words of Tinker, when you hold this sword in your hands you stand up straight and feel miles taller. Regal.
I am not the original owner of this piece, but it has ever had very few flaws, and I've worked to improve its condition since it arrived. I've polished the furniture bright and clean, rejuvenated the grip with wax, and diligently cared for the blade. There is some very minor scratching near the guard from removing stains that were present when I received it (can't even be seen in the photos) and the scabbard is not as streamlined as some other Fletcher pieces to my eyes, but the fit is next to perfect--it will hold the sword upside down, yet is easily drawn-- and the construction is quite sturdy. She's been well-cared for: cleaned and re-oiled every three weeks, with no heavy cutting.
I am asking
$1000 for the sword

and

included scabbard

shipped

in the US
. Paypal preferred. (I'll consider international, but shipping would be extra)
Like I said, the scabbard's not quite to my tastes, but inside is one of the most marvelous pieces I've seen anywhere--a real-life ranger sword built on an Albion blade. It's the most magical sword I've had the honor of owning
PM me with serious interest and/or reasonable offers (the only trades I'm considering are an Albion Regent or Earl)
Best Regards,
--Zachary J. Luna