---
Darksword Armory Item Code 1310 The Ranger
It is an uncut with and in excellent condition DSA Ranger Sword. The sword came sharp by DSA. The Ranger is hand crafted with 1060 High Carbon steel, tempered to a Rockwell of 53. DSA interlaced scababrd included. Note that I do not longer have the DSA paper showed on the first picture.
Sword Approximate Specifications
Blade: 1060 High Carbon Steel Tempered to a Rockwell of 53
Total length: 117 cm
Blade length: 91.5 cm
Blade width: 5 cm
Weight: 2.4 kg
POB: 10 cm
The sword is located in the European Union and will be shipped worldwide.
Additional pictures and information are available on demand. Feel free to ask.
Asking
350 Euros
plus actual shipping cost. Trades accepted (even if they involve payment from my side) for traditional japanese or custom blades. Quality folded katana with bo-hi of modern production accepted as well.
Buying from the internet is a risk and I know it well. I offer a total satisfaction guarantee for all bidders located within the European Union (my apologies to foreign bidders but I cant suffer the import licence procedures again). If you buy from me and for WHATEVER reason do not like it or change your mind within 3 days from receiving the package, just return it for a full refund. All you get to pay are the actual shipping costs.
---

Attachment: 54.57 KB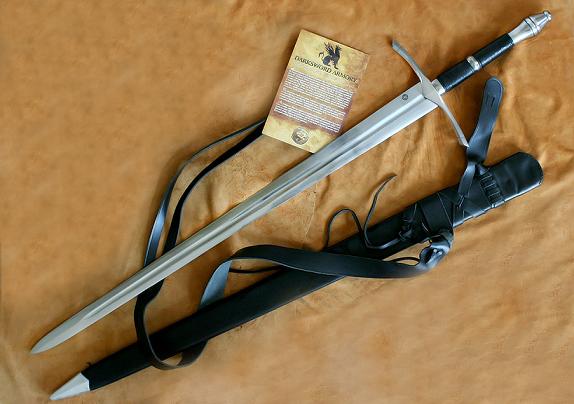 Attachment: 80.05 KB
[ Download ]


Attachment: 248.59 KB
[ Download ]


Attachment: 96.07 KB
[ Download ]


Attachment: 97.65 KB
[ Download ]


Attachment: 74.11 KB
[ Download ]


Attachment: 159.4 KB
[ Download ]