---
Fred Lohman custom mounted C.A.S. Hanwei Folded K120C Steel Bushido Katana.
Blade Steel: Made of hand-forged and folded K120C powder steel differentially tempered to produce an HRC60 edge, HRC40 back and a real distinctive hamon.
Approximate Specifications
Blade length: 70 cm
Handle length: 26 cm
Weight: 1.100 gr
Width at Guard: 3,15 cm
Width at Tip: 2,35 cm
Sori: 1,9 cm
Condition: Excellent. No rusts, not faults, no bending and no chips. Only a few scratches, almost indetectable (I couldn't photograph them).
The balance of the sword is exceptional. It is very fast and easy for long training.
Koshirae: The sword is custom mounted by Fred Lohman, and all that's left of the original bushido is the excellent folded steel blade and the samekawa that's been dyed black. It has new fittings (Lohman's #5 Key Fret) , black same over the 26 cm waisted tsuka, blue suede ito (Lohman's tsunami) wrapped in tensho style tsukamaki and a black roiro kizami saya with sakazuno (obi hook). Note that by choice it has no menuki and comes with blue chemical silk sageo.
The tsuba is antique with a sukashi sakura (cherry) flower theme in perfect condition. It has a rich dark brown patina and an elegant design. To sweeten the pot I am offering and an alternative selection of another tsuba. The winning bidder will choose which of the two will be mounted on the sword
Length: 75mm
Width: 74mm
Thickness: 4mm
The sword is located in the European Union and will be shipped worldwide.
Additional pictures and information are available on demand. Feel free to ask.
Asking
900 Euros
plus actual shipping cost. I accept trades with traditional japanese or custom blades. Modern production folded blades with bo-hi accepted as well.
Buying from the internet is a risk and I know it well. Buy here with confidence as I offer a total satisfaction guarantee for all buyers located within the European Union (my apologies to foreign bidders but I cant suffer the import licence procedures again). If you buy from me and for WHATEVER reason do not like it or change your mind within 3 days from receiving the package, just return it for a full refund. All you get to pay are the actual shipping costs.
---

Attachment: 34.42 KB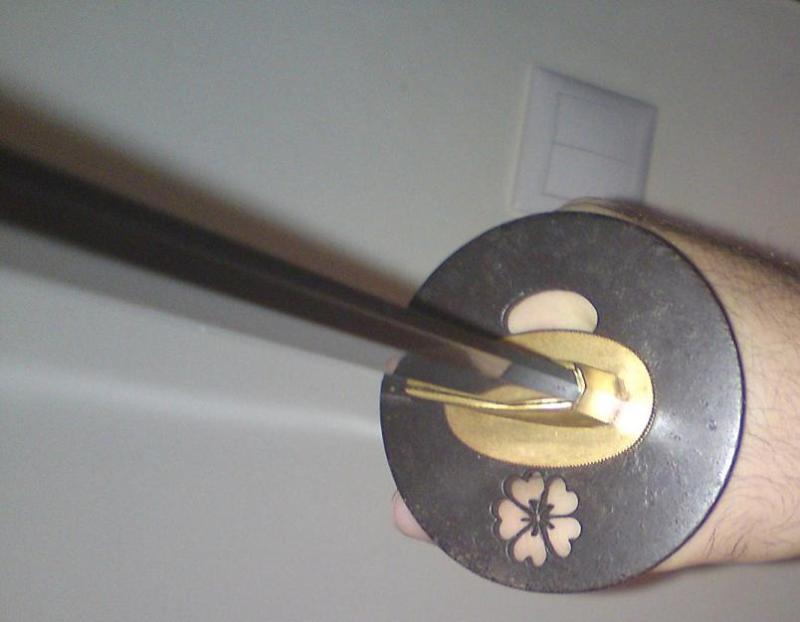 Attachment: 74.61 KB
[ Download ]


Attachment: 62.4 KB
[ Download ]


Attachment: 66.14 KB
[ Download ]


Attachment: 77.69 KB
[ Download ]


Attachment: 61.52 KB
[ Download ]


Attachment: 154.74 KB
[ Download ]


Attachment: 141.28 KB
[ Download ]