I could subtitle this as "My Second Burridge". But I won't.
Anyway, my collection of bronze age swords of Mycenae/Egypt/"Holy Land"/etc continued this month with an early Christmas gift to myself, a Neil Burridge Type G. I'd been wanting a thrusting sword that could have seen action in the Aegean, as well as being similar to types used by the Sherden, Peleset/Philistines and other "Sea Peoples", and the type G works for that, as far as I am aware. I had been reticent about the G, as inititally I thought it was 1. odd looking (it's much more attractive in person) and 2. probably a little shorter than I wanted (but really, it's not that short, the blade itself is about 19 inches -- but I initially wanted one of those longer "rapier" type swords, like one of the "C" series). Pics posted here (and elsewhere) by other G owners convinced me otherwise. So I sent Neil my order and he sent the sword in fairly short order (STILL suprised that it took shorter to get to my neck of the woods from the UK than I've experienced with many US domestic vendors!).
There's probably not much I can add here that hasn't already been said, either about Neil or his type G. The G blew me away, easily exceeding my expectations. It is light, fast, and deadly. The grip may seem restrictively small, but that is how it was designed and meant to be used -- gripped and used properly, this is not a problem. In fact, I feel the grip helps index the sword for an upward thrust from waist-level, and aims it right at the upper abdomen or solar plexus of an opponent -- this feels absolutely natural to me, anyway -- where a thrust will have the most effect. That's my pet theory, based on nothing more than an observation of this sword. If I'm right, then those ancients really did know what they were doing... now, the neat thing is that this sword can also be "fingered", using the "horns", and you can do all sorts of other thrusts, distracting (and even disabling) cuts, and other kinds of neat deadly tricks.
The sword Neil sent is also rather unique in that he added a little extra -- a gold band or insert, between the last grip rivet and the pommel. This was a neat cosmetic idea which really sets the sword off, an attractive addendum to an already attractive sword.
Anyway, to sum it all up, I really like this sword. It's a great sword for sticking it to those pesky Trojans, or Cannanites, or other bronze-age-ites. This is my second Neil Burridge bronze sword, and it won't be my last. If you want a bronze sword -- well, there's no where else to go, really. Neil is the King (Pharaoh? Chieftain?) of the modern reproduction bronze sword.
(http://www.bronze-age-swords.com/)
---

Attachment: 95.73 KB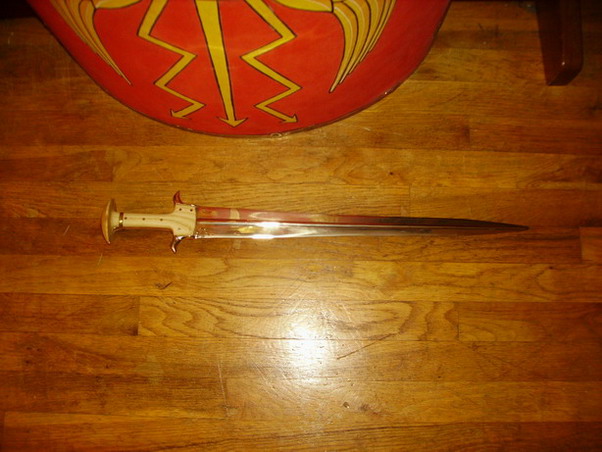 Attachment: 107.35 KB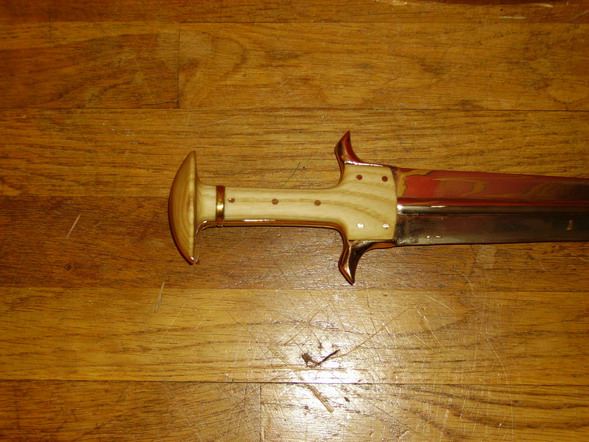 Attachment: 93.81 KB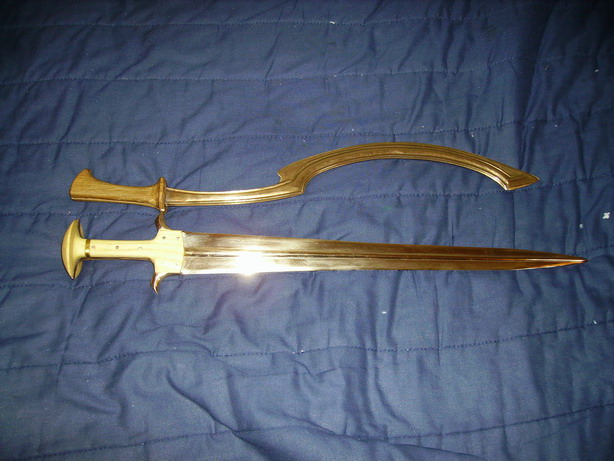 Attachment: 81.13 KB