---
Purchased in 2005 from Mike and the guys at Albion. It was the last of it's kind.
Measures 9 inches from spike to hammer face. The square socket is one inch per side, and the hammer face is around one and a half inches per side.
This was a gift for a friend, but I swapped him some tomahawks for this, and it's been sitting on my projects shelf for awhile. He's a throwing weapons fiend, so this sucker has seen service as a projectile. It has also smashed through the wind
shield
, hood, and floor of an old clunker - so it's fully functional.
A small piece of the spike has broken off - probably whilst smashing the clunker - but it's still a nasty piece of work. It also has some very minor surface rust - almost like tarnishing. I've hafted the hammer on twenty nine inches of impact grade hickory that once served as a pick-axe handle before retiring in style. I can include this if you are interested, but the shipping cost will obviously be higher.
I am asking 35 for the hammer, but I'm willing to negotiate. I accept PayPal, and would, in fact, prefer it. If you do not want the handle, shipping can be accomplished with a Flat Rate envelope from UPS, and will cost you $4.95. If you want the handle shipping will be more, I will have to figure out the cost and email you.
Happy Hunting.
Pictures attached.
---

Attachment: 28 KB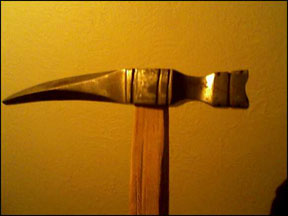 Attachment: 26.29 KB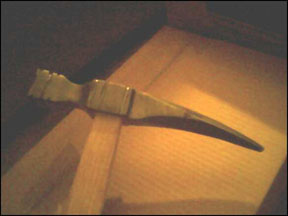 Attachment: 30.04 KB