Here's a book that many folks here might be interested in, and which I don't think has been mentioned on myA before:
Sheaths, scabbards and grip coverings: Use of leather for portable personal objects in 14th-16th century Turku
(Archaeologia Medii Finlandiae), by Janne Harjula (Skas, 2010).
From the book description:
Quote:
Turku was the most important town in medieval Finland, and this study presents the leather finds from archaeological surveys in the town and castle over the last hundred years. The artefacts are each individually described in text and pictures.


Apparently, this is one of the very sources we have for historical examples of 'rain guards' / chappes, which have fascinated many of us over the last year, given Roland Warzecha and Hammaborg's experimentation with them, and custom projects documented here by Sean Flynt, Mathieu Harlaut, and Max W.

I searched for this book a few months ago when Russ Ellis was building a 'rain guard' / chappe for me (sneak previews in this post) but it was only rarely available secondhand, and quite expensive.

Well, The Book Depository is now listing it as being reprinted: http://www.bookdepository.com/book/9789519680...-Coverings I just ordered one a few days ago, but it's now showing as out of stock. Amazon are listing it as being available for order: http://www.amazon.com/Sheaths-Scabbards-Grip-...amp;sr=1-1 so, hopefully, it has indeed been reprinted and is available. If mine arrives, I'll let you know.

I'm hoping it will do the same for our understandings of scabbards, grip coverings, and chappes what Olaf Goubitz's Purses in pieces and Stepping through time did for pouches and footwear.

---

Attachment: 70.61 KB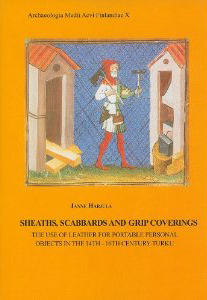 Sheaths, Scabbards and Grip Coverings, by Janne Harjula