---
Hello,
I am offering a custom Albion Tritonia sword for sale. This was purchased from Albion some time ago in an unfinished/antiqued state. This sword doesn't have the same level of completion as a regular Tritonia and this is reflected in my asking price. The blade has been antiqued and made to look like a centuries old weapon with pits, several nicks and a hand forged finish look. The guard and pommel have also been antiqued and blued. The pommel is missing the Tritonia trademark decorative cross on top (this is the way the sword came from Albion). The tang was peened by Albion. The handle was hand carved from solid oak and wrapped with Italian goat hide leather with an antiqued faded cherry finish. The blade has a semi-sharp edge. For all the sword stats, please visit Albions homepage.
The sword comes with a custom made scabbard and suspension. The scabbard has a wood core and with a custom pattern and is wrapped with Italian goat hide leather with an antiqued faded cherry finish. The belts and trims have been hand cut from thick, soft brown natural USA tanned cow hide leather and finished with an antiqued dark blue stain. All the patterns have been hand cut and several studs and belt decorations have been added. The belt fittings are modern made recreations of a period set (buckle and belt tip) with a lion pattern. The scabbard is stitched on the back and finished with a hand made , steel , antiqued chape.
I am asking $500 for this set, shipping is FREE for USA / Canada (48 states,10 provinces), private sale, no taxes, no customs fees and no xtra paypal fees. Paypal payment is preferred, not looking for trades at this time, sorry. If anyone is interested, please contact me through my email (
cs_76@yahoo.com
) or send a PM.
Thanku for looking.
Chris
---

Attachment: 82.89 KB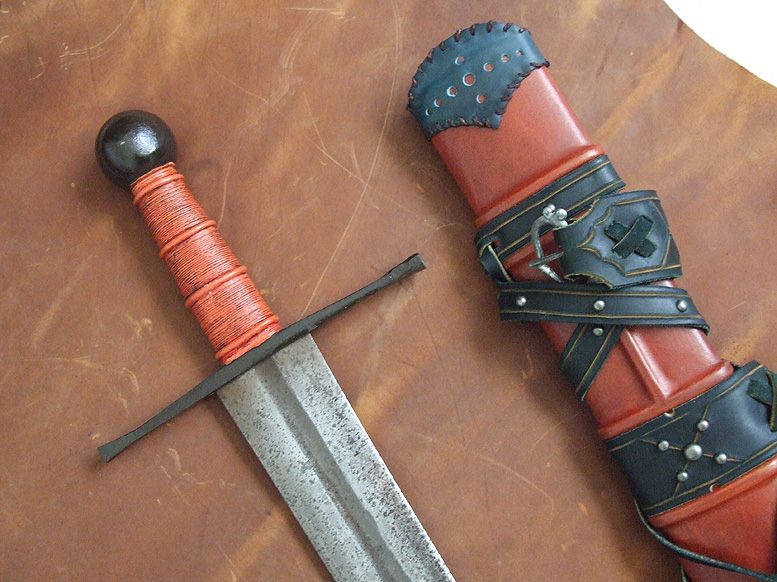 Attachment: 83.51 KB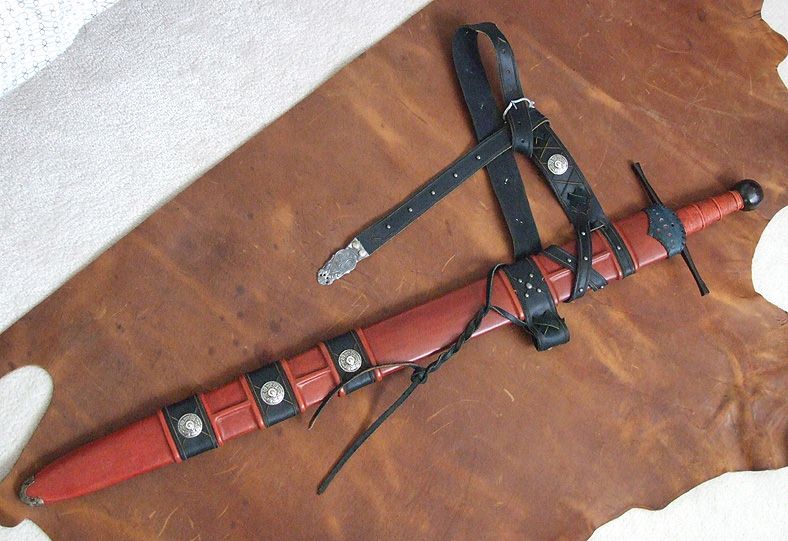 Attachment: 167.98 KB
[ Download ]


Attachment: 157.24 KB
[ Download ]


Attachment: 144.39 KB
[ Download ]


Attachment: 162.48 KB
[ Download ]


Attachment: 105.28 KB
[ Download ]