Ever had a really good plan that, while it didn't quite work out like you'd planned, it ended up working out well anyway -- just differently...?
Happens to me all the freaking time. Case in point:
I happen to collect high quality reproductions of Scottish Basket hilt Claymores (yes, "Claymore" is a proper term for the basket-hilt Scottish broadsword, and this point has been argued and discussed over and again on the various sword-related boards and fora; so let's not go there again, okay?). I also have some swords that are not quite top-of-the-line, but which are of sufficient quality for my interest. For instance, I have (had?) a First Generation Cold Steel Scottish Broadsword. It looked fairly nice, even with the cheezy red cloth liner, and it handled tolerably well. At 3 lbs even, it actually weighed fairly decent for a production-line basket hilt. It was my "fun" basket hilt; I used it for cutting various items, which it did... okay. In truth, the balance and harmonics weren't the best. And the edge, while sharp, was overly sharp; Cold Steel tends to do that (and believe it or not, simply having a really sharp edge does not necessarily a good cutting sword make. There are other dynamics at play here. But I digress). The basket was based on the regimental pattern of 1828. It was a nicely-built basket with a durable black finish, but with forward gaurds that are distinct -- distinctly odd and ahistorical.
Anyway, long story short, I had it, didn't need it, and was planning on selling it off. Could have used the money. Money's kinda hard to get these days, right?
Enter brilliant idea.
The blade, while being overly sharp with an extreme secondary bevel, is a good blade; it's strong and flexible, with a very good full length tang, threaded at the end. It's highly polished, and features multiple fullers. A very nice blade, really. The blade made be made in India, but don't let that throw you off; they did real good here (I just wish Cold Steel would stop it with those stupid secondary bevels). So, perhaps I thought, I could reuse the blade with a new hilt... yeah, that was the ticket.
So I dropped that master hammerman, the ultimate hiltmeister himself, ElJay Erickson, a line. I told him my plan, and I even had a pattern picked out for him to copy, as I am sure he would do a great job.
The hilt I wanted was a copy of E6a from Mazansky's
British Basket-Hilted Swords
, a hilt by John Simpson of Glasgow that was very traditionally Glasweigan in style, except for an S-shaped member replacing the standard side gaurds (yes, I'm a sucker for S-hilts. Don't know why). In the planning stage, it occurred to me that someone else had ordered the same pattern of hilt from Mr. Erickson -- which turned out beautifully, of course. This caused me a bit of embarrassed consternation, as I didn't want to waste Mr. Erickson's considerable talents on simply making the same thing over and over again. But in the end, my S-hilt mania won over, and ElJay said he would not mind creating another such hilt again, and so we agreed, adding that we'd do something slightly different here.
Anyway, ElJay did that voodoo that he do so well. I paid via a fascinating payent plan that benefitted us both quite well, and really, I'll have to tell you all about it someday.
The hilt arrived the other day. I very excitedly took it out of the box. It is a very deep brown, like a Hershey's bar. The grip is fishskin (historically accurate, if a bit fragile. Fishskin tends to lose scales easily, and this grip is no exception. Still, it's mostly intact). Very nice, very lovely, all parts were there, now to assemble it on the CS blade. Take down of the the Cold Steel sword was a cinch. Blade good, all good so far.
Well, the tang was a bit long. Okay, I was forseeing such a problem. Not a big problem; Just shorten the tang. After some effort with a hacksaw, I cut off about a centimeter of material (did I tell you that hardened steel is hard? Well, it is). Okay, now assemble... huh. The tang nut ElJay made and supplied doesn't go very far down the tang. The threading, or the size must be wrong, I thought -- certainly more the fault of the Indian-made blade, as ElJay's threading is pretty standard stuff. Anyway I needed to shorten the tang a bit more anyway, so I took off another half-centimeter.
The nut still did not screw down. Nuts!!!
Exasperated, I temporarily secured the sword with the old Cold Steel pommel nut. It worked... sort of. The hilt was secure... but now with a big long thing sticking out the end. Imagine taking one of your swords, and attaching a pawn, or better yet, a bishop, from your chess set to the pommel. Yeah, I'm talking goofy here.
So, I go back to the drawing board -- or rather, the old work bench. Some of dad's old tools and parts are out there, some of which haven't seen use since before WWII. I went through a couple containers of nuts, bolts, and screws, and after trying several, I stumbled on a hex nut that actually worked! It's also kind of weathered, so that, while it doesn't totally match the hilt finish, it's fairly close -- and it's not shiny like new, nor is it egregiously big.
So now, the sword is secured with an ahistorical hex nut. But unless you look close, you won't notice it. Nor will you notice that it's slightly out of line with the pommel. Yes, daylight makes it into the pommel. That's nice, if you want to live there, I guess. Be that as it may, it is quite secure, and I can easily remove the hilt in case I wish to have a new blade made for it -- as I may very well do, in the future.
The sword now weighs in at 3.5 lbs. That's about a full half-pound heavier than it was; however, the
balance point
is now right about 4 inches (whereas it was closer to 6 inches before, IIRC).
Anyway, I am actually pretty content with this sword as is. A bit heavier than I wanted, but well-balanced; a much nicer hilt, more historically accurate than the previous one, and far better looking, with a little nut on the top, put there by the little nut who assembled it.
Any criticisms must inevitably fall upon the swordslipper -- that is, me, myself. That guy is a real amatuer. But I suppose some of the blame can be place on the Indian contractors who don't know how to properly thread a piece of metal. This hilt deserves a much better blade than I have given it. And it may yet get one.
In any event, ElJay's work is as gorgeously fantastic as you have seen previously. If you're considering a complex-hilted sword -- be it a full Scottish basket,
Schiavona
, Mortuary, Germanic, whatever -- drop him a line soon.
---

Attachment: 95.62 KB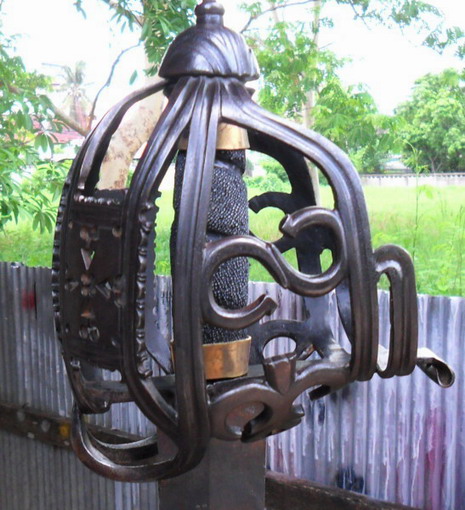 Attachment: 97.43 KB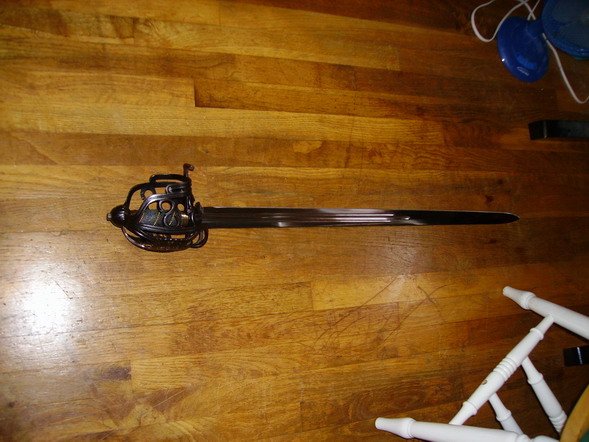 Attachment: 93.3 KB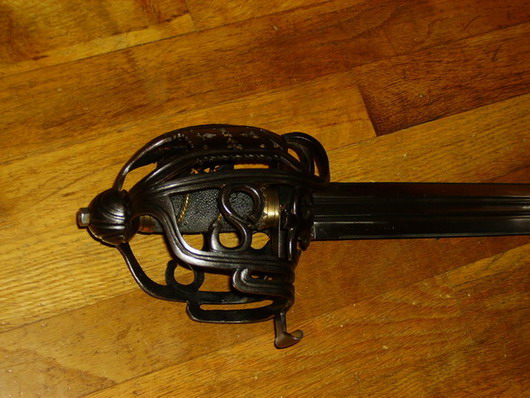 Attachment: 71.85 KB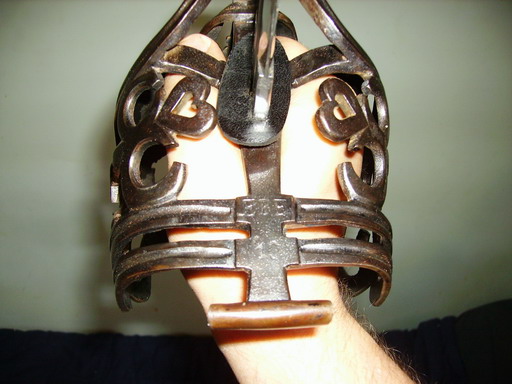 Attachment: 96.15 KB