Hi All,
I made a bauernwehr a while back with some black and white inlaid work on the grip and I liked it, so I tried a similar handle inlay again.
I have seen some grosse messers with similar black and white checkerboard inlay on the grips and thought it would go well on a slightly fancy Bauernwehr, which is a knife style I particularly like at present, so that is the basis for the grips.
The pommel and bolsters are fairly normal shapes for these knives and the blade shape again is fairly normal, though many had a clipped point.
The scabbard is tooled leather with a leather liner and the stamps were etched by myself.
The blade is made from spring steel and is just under 6mm - 1/4" at the hilt and is exactly 12"/30cm long.
The fat finial to the chape is also quite a German feature.
This knife is for sale and available for immediate despatch. It is £380, $570, 456Euro and shipping would be £10 for UK and £15 for international.
I hope you like it.
Tod
---

Attachment: 95.98 KB



Attachment: 155.72 KB



Attachment: 113.83 KB



Attachment: 137.58 KB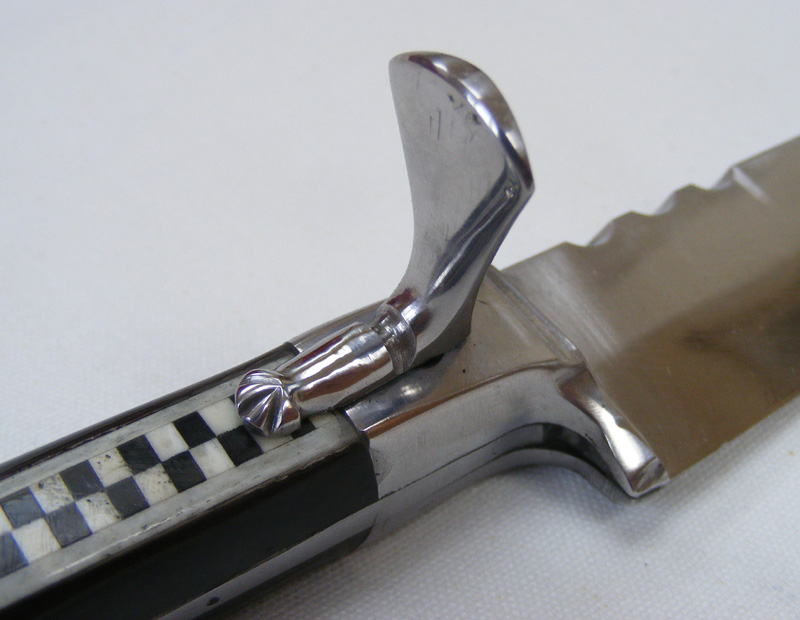 Attachment: 140.33 KB