Hi all,
Recently I have started using my steel blunt sword full-time during training instead of just for the solo parts. That means I have also started to wear my scabbard during training now that I don't have to switch from steel to nylon and back again several times during each training.
But I am having problems with my scabbard and the suspension. When I'm moving, my scabbard is swinging and flying all over the place, severely hampering my movement. I have no idea if this is caused by the type of suspension or because I'm wearing it wrong. So, how should I wear a scabbard with this kind of suspension? What can I do to make it stay put? And if that's impossible, is there a better way to suspend the scabbard?
Please see the attached pictures and descriptions. Oh, and ignore my ugly mug and the cat wandering around ;)
Edit: Hmm, image descriptions can't be that long. Anyway, as you can see the sword and scabbard hang very horizontal when the sword is in the scabbard. When the sword is not in it, the scabbard hangs nearly vertical. The three straps on the scabbard are not fixed. I can slide them if I want. Sliding them does not help though. If I slide them further backwards, the sword hangs completely horizontal when seated in the scabbard and sometimes even tips forwards.
You can see that the scabbard can easily swing all the way back, sideways and forwards. It can swing so much forwards that it crosses my left leg and I can trip over it.
---

Attachment: 58.55 KB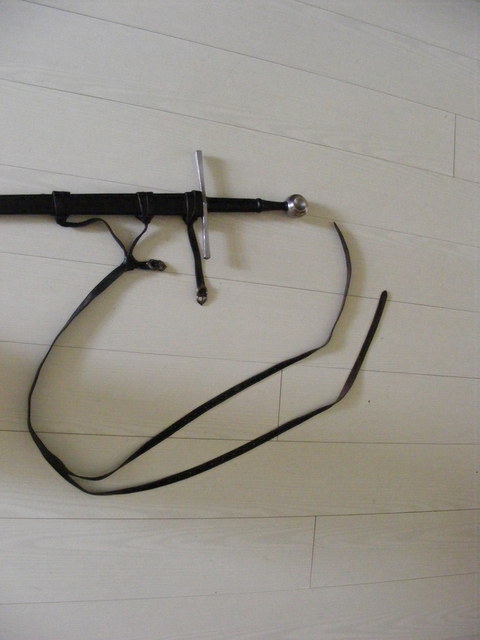 Here is my sword, scabbard and suspension. There are three leather straps wrapped around the scabbard. The back two come together at the belt. The top one ends in a buckle. The belt itself splits in two.

Attachment: 66.56 KB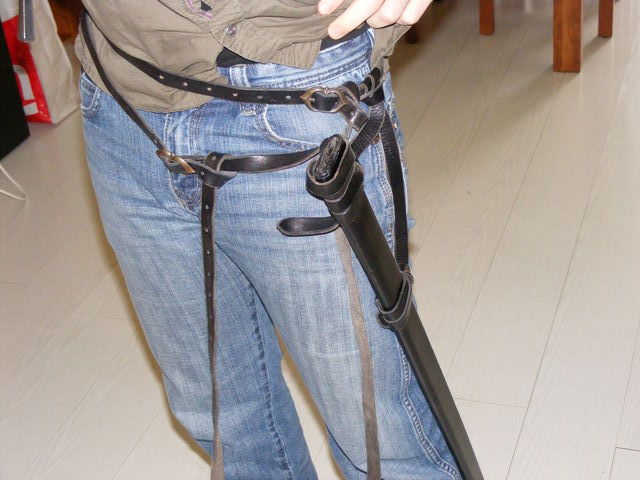 Here you see the scabbard strapped on. I put the top half of the split belt in the belt buckle. The bottom half of the split belt goes to the fordward strap buckle.

Attachment: 68.01 KB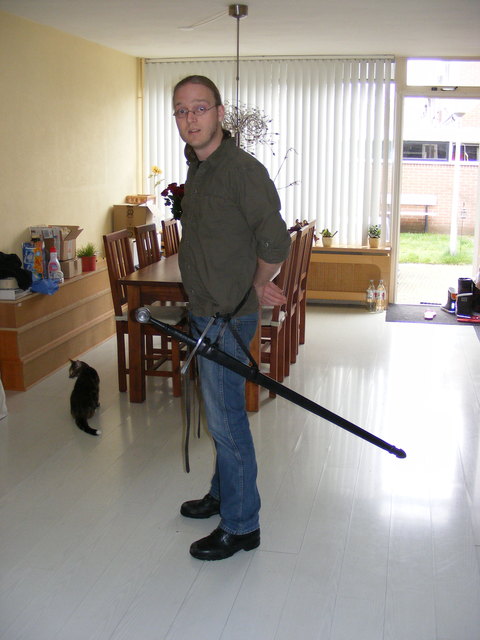 Here you can see the scabbard when it's holding the sword. When I walk normally, the sword has a tendency to bob to an even more horizontal position.

Attachment: 71.31 KB

Here you can see that the scabbard can swing completely backwards.

Attachment: 70.63 KB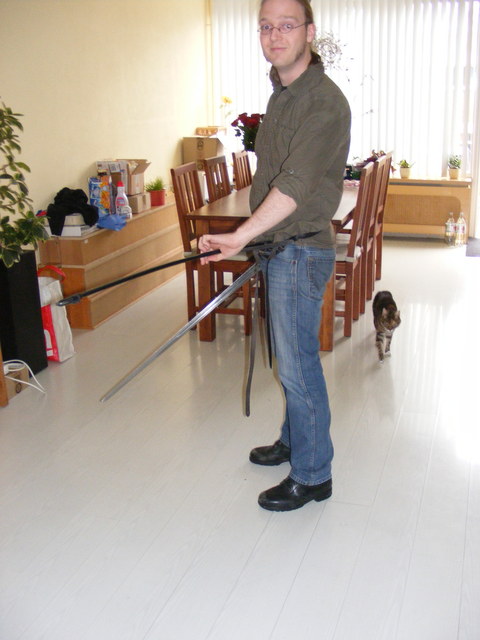 The scabbard can swing completely sideways and forward.

Attachment: 68.74 KB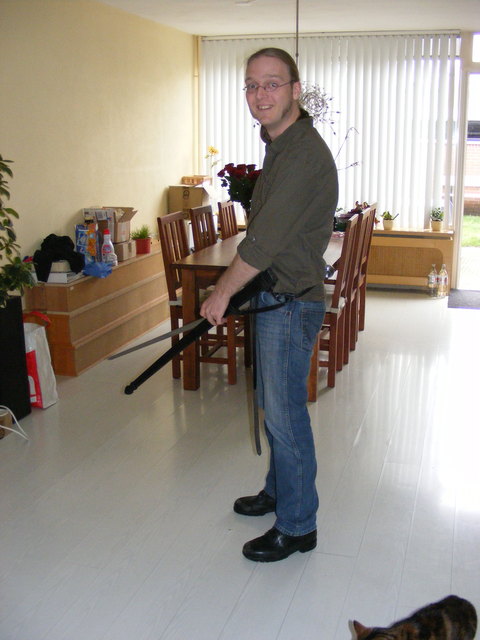 The scabbard can even swing completely to the front, crossing my leg. In this picture, then end of the scabbard is pointing towards my right foot. I can easily trip over it with my left leg.

Attachment: 60.42 KB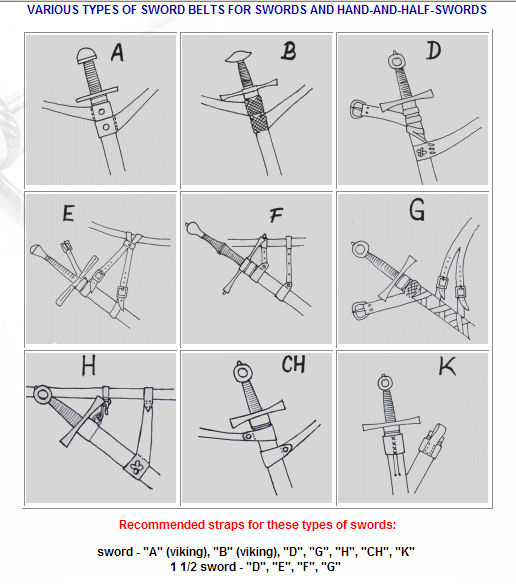 This is an image from the Lutel website showing various suspension methods for scabbards. My scabbard is type "E". Note that my sword and scabbard is not a Lutel, I just thought this was a really good image showing off various suspension methods.