Greetings.
Recently I sent a pile of swords to Sonny's Custom Sword Shope for some work... three swords I sent for scabbards to be made... full, leather covered wood cored scabbards. 1 Dagger I sent just to have the grip re-done. Lastly I sent a sword to have the scabbard re-done, the grip re-done, the fittings altered and blade sharpened.
I ended up asking Sonny to do a touch up on the edges of all the weapons except the dagger.
Here are the results.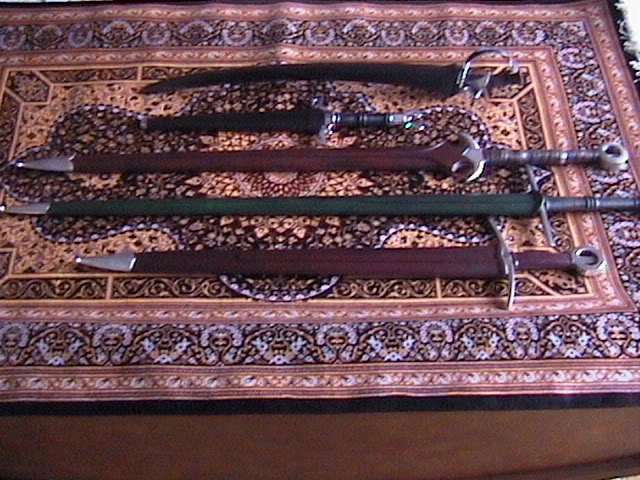 Tinker Type XIV Ridding Sword
I picked this baby up second hand a little while ago and fell in love with it. Its an awesome sword, quick, attractive. However, it had only a plain leather sheath. This would not do. I asked Sonny to make me a scabbard from scratch.
The fit of the scabbard he made me is perfect, the blade comes out easily when drawn but stays put when turned upside down and has no rattle.
Sonny even matched the purpleish/red color of the grip almost perfectly.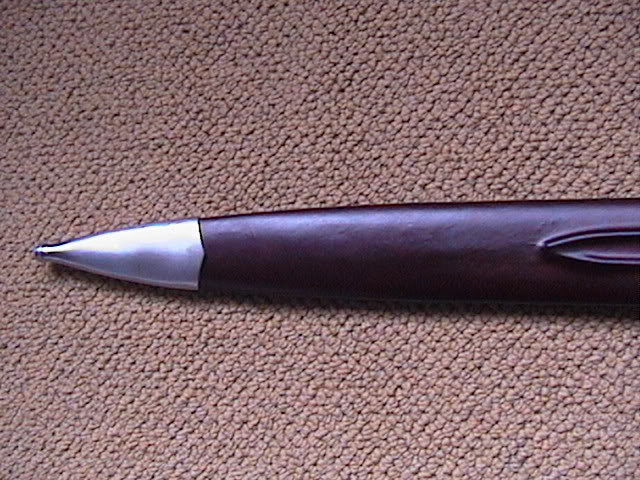 Hanwei/Tinker Fullered Bastard Sword
This was the sword that got a full re-make. Its light and well balanced, but super borring looking stock. Also, the edge from out of the box is craptastic. I asked Sonny to sharpen the edge and redo the scabbard and grip in green, and to grey the fittings out a bit.
Noe I'm in LOVE with this sword, it made a HUGE difference.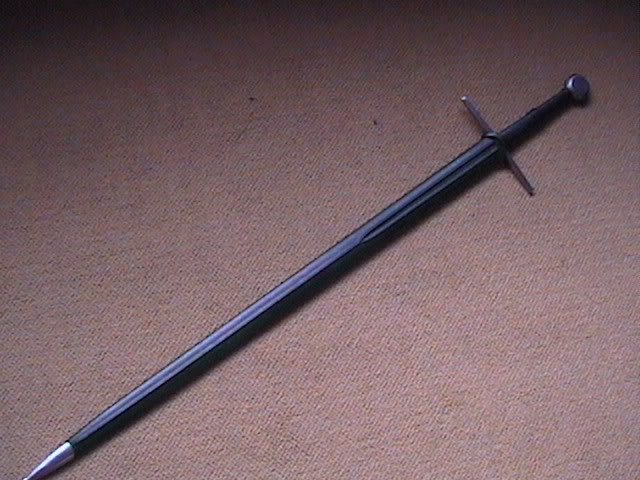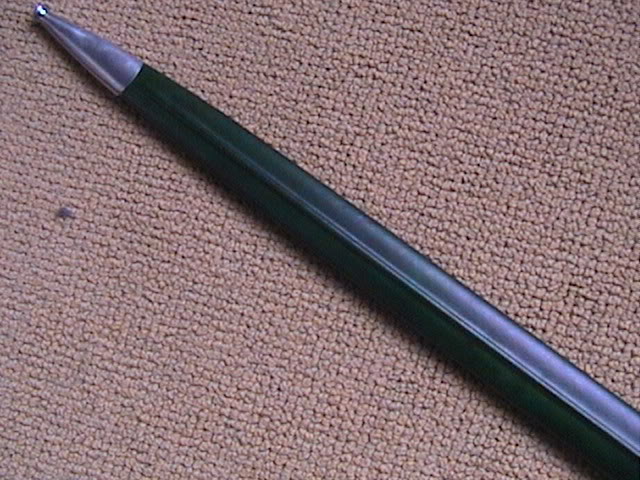 SBG/BKS Bastard Sword
Well, not much need be said about this. I wanted a scabbard for it... Sonny actually had an idea he wanted to try and since I trusted him I said 'Go for it.'
I'm glad I did.
The scabbard he made for this sword blew my mind.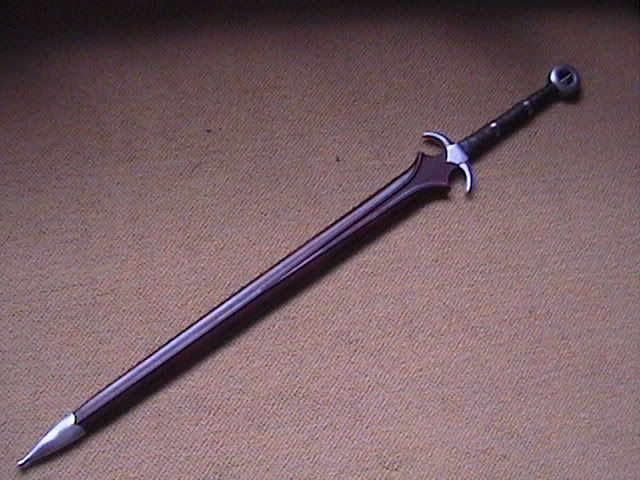 BKS Cutlass
I had this cutlass made for my wife as a gift, it features an anchor for the basket. I asked Sonny to make a simple black leather wood cored scabbard to match the grip and her swordbelt.
The plain and without frills, the fit of the scabbard is great and it feels very sturdy yet light at the same time. My wife plans to ware this sword at the upcoming RenFaire.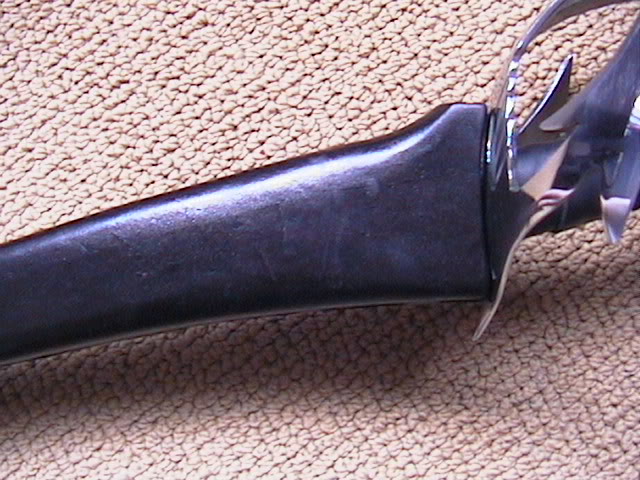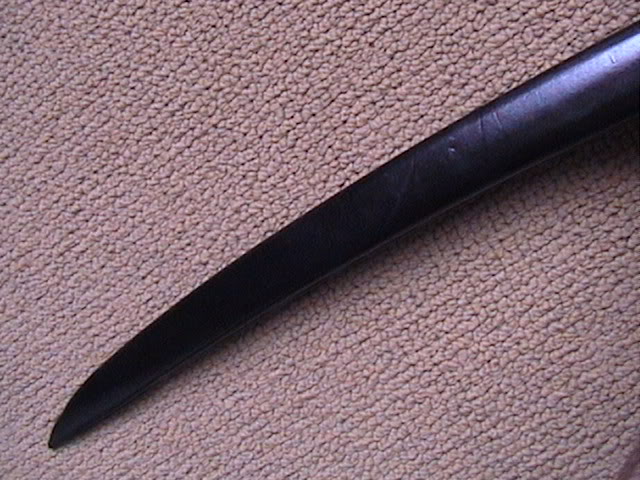 Gen 2 Chaos Dagger
Last but not least, I have a Chaos sword that I love... but the stock grip on it was awful, so I had it re-done. I recently picked up a Chaos dagger to match my sword, but again, horrible grip, so I asked Sonny to make it match my sword.
I sent him a pic of the swords grip... and he replicated it on my dagger to a "T".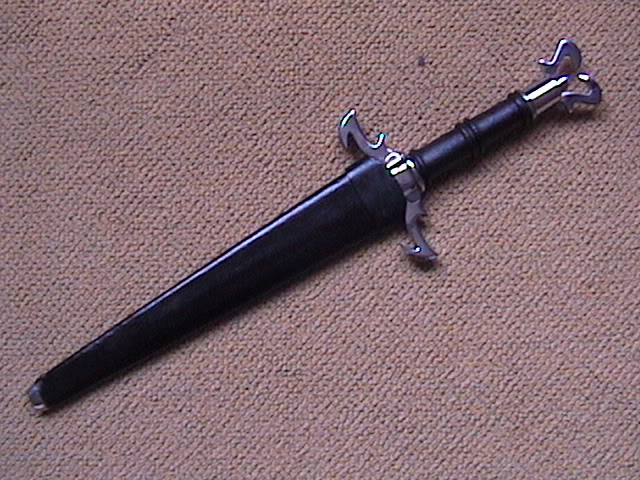 Sonny was great to work with. He was able to do everything that I asked, and his own creative input was also super helpful, and everything turned out even BETTER then I had hoped for! His Custom Sword Shoppe can really breath new life into otherwise borring swords... or provide great scabbards and suspensions and grips for existing swords that you like but that need improvements or whathaveyou.
I am already gathering another pile of swords to send to the Custom Sword Shoppe... because I am so happy with the work that Sonny did on my weapons!
I highly doubt that ANY of my production blades will remain untouched by the Custom Sword Shoppe at this point... not when I can have him turn 'Meh' into 'Holy S&@t!'
;D