---
As I slowly sell off my late 14th century knight's harness. I have for sale yet another piece of it for sale:
It is my haubergeon, half-sleeved,
maille
shirt (pics attached)which will expand comfortably up to a 50 inch chest when worn over an aketon. The links are made of round section, riveted,
stainless steel
, with an internal diameter of 9mm. Needless to say there is not one spot of rust on the shirt, nor damage or breaks to the links. It is in pristine condition and has been well maintained. I am 6'1" tall and 17.5 stone and it fits me fine.
I am wanting GBP£280+pp (from the UK) for the shirt. Paypal is my preferred method of payment, please add 3% to the cost, to cover the Paypal charges.
Thanks for looking.
---

Attachment: 79.03 KB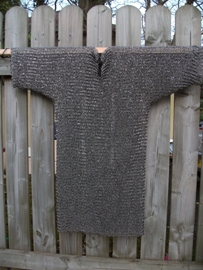 Attachment: 66.81 KB