The attachment shows a Kirby holding a Rhomphia made nearly two years ago. This belongs to the same person who owns both the Kopis and Macheria shown on our website. The second one shows the owner holding it but I really wish the photo came out better to show the engraving on the blade (similar to the Macheria).
This was handforged from one piece of Spring Steel and the dimensions were based on an actual one shown in the other attachments. The blade tempered using his traditional methods. The total length was 65 inches and weighed approximately 3 pounds (but not over). The shank is 20 inches and slightly rounded for better holding. The owner wrapped it with flat leather cord. The 4 inch, 2 piece bone "grip" is riveted like the original. Apparently some records say the grip material was wood, bone or horn. So it was decided bone would make a good contrast. The blade is slightly curved inward but not enough to prevent it from being used in a thrusting manner and the owner honed the inside edge quite sharp. Although some records say the Thracians carried this on or over their shoulders (a few finds show a hole near or on the "finger guard" for a carrying thong), the scabbard makes far more common sense for carrying purposes and storage.....especially knowing how sharp it is. Modern cars not withstanding. It is made so he can carry it across his back.
The flat leather wrapping, it was felt would have gave the Rhomphia better handling and less slippage from blood, water or even heat. Or anything else that would cause the hands not to have a good grip. Kirby and the customer talked about this at great length as to whether or not this would have been done. All the finds show nothing, but then any such material could have been destroyed during the ritual "killing" and burning as the original was (was just a twisted,tangled "ball" carefully straightened out) The customer is a huge Macedonian/Thracian collector with a sizeable library and also makes some of his own gear for living history purposes. A friend of his is a Great Sword devotee and showed just how awesome this weapon would have been in a Thracian warrior's hands. Extremely quick and well balanced.
Some of you may recognize the actual pics from the one Mr. Piscopo had on a website. I wrote to him with some questions about this piece and Kirby's intentions of making one. Mr. Piscopo had offered to send this one for us to look at but I had to decline his gracious offer. I had hoped to send him photos after it was finally done, but learned he died. I think he would have liked to have seen this as he mentioned in another forum no one was making a Rhomphia and would have liked to see one made. Well, at least some of you will see it now. His photos were good enough for Kirby to work from and the customer did have some resource material showing others with text to help flesh out some details. The rest was up to Kirby's expertise and "eye".
As said, I just wish the unscabbarded photo was better and will try to get a better one as soon as I can. Enjoy.
---

Attachment: 34.99 KB


Kirby holding scabbarded Rhomphia

Attachment: 54.04 KB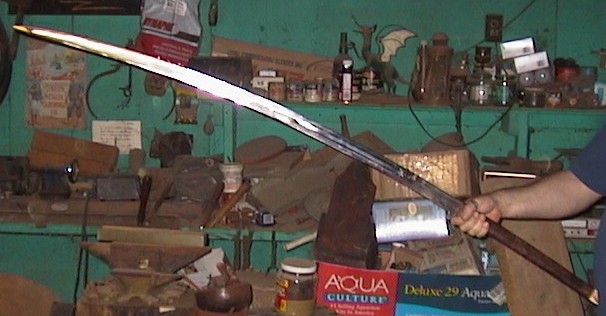 Unscabbarded

Attachment: 4.93 KB


Rounded shank, finger guard "stop" and grip

Attachment: 8.1 KB
Original [ Download ]