Posts: 12 Location: Brisbane Australia

Tue 16 Feb, 2010 11:48 pm
Mistery Helm - Please help
Does anybody know who makes this helm?
---

Attachment: 20.43 KB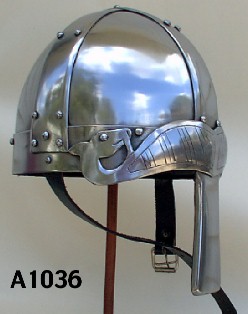 Attachment: 20.43 KB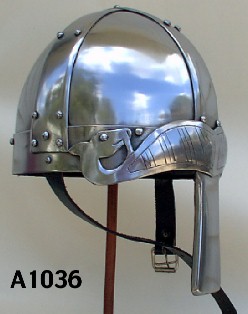 Attachment: 20.43 KB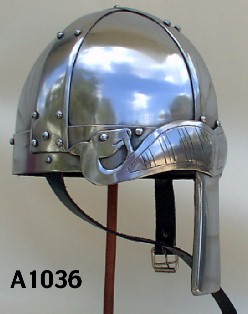 Posts: 23 Location: Pärnu, Estonia

Wed 17 Feb, 2010 3:33 am
Morning,
By-the-sword.com has a helmet quite like this, only in antiqued finish somewhere in their catalog.
[ Linked Image ]
Unfortunately, while i could dig up the picture, i wasn't able to find who made it or where was it produced. Nor can i say for sure that this has been purchased from them. The noseguard and overall construction look the same, but those "head" ornaments differ a bit from this example.
Posts: 1,221 Location: NC

Wed 17 Feb, 2010 3:37 am
Hanwei makes one similar to this one, with an antique finish. However, the nasal on theirs is smaller and the decoration on the brow pieces is not as prominent. I don't know where this one comes from. It is being supplied by the folks at
www.viking-shield.com.
Why don't you ask them?
Posts: 643 Location: Minnesota, USA

Thu 18 Feb, 2010 9:14 am
Page 1 of 1


You
cannot
post new topics in this forum
You
cannot
reply to topics in this forum
You
cannot
edit your posts in this forum
You
cannot
delete your posts in this forum
You
cannot
vote in polls in this forum
You
cannot
attach files in this forum
You
can
download files in this forum