I just found this gem in a recent Christie's catalogue (December 2008). All text and photos are copyrighted by them.
128
A RARE ANGLO-SAXON SWORD OF VIKING TYPE, THE HILT INLAID WITH TWO COLOURS OF GOLD 10TH -1 1 TH CENTURY
In excavated condition, with broad tapering double-edged blade with evidence of pattern-welding, cut with a broad shallow fuller over the greater part of its length on both sides, and the outer face with the abbreviated Latin inscription'+ SIGVNIS+' cut in characteristically bold letters perhaps intended for contrasting inlay, down-curved guard of rectangular section tapering to form pointed tips, both sides decorated with a lozenge pattern inlaid in yellow gold, and lobated pommel of two-part construction, the lower part encircled by lozenges of white gold; sold together with copies of relevant correspondance between the present owner and Barry Ager, Curator of The Department of Prehistory and Europe, The British Museum.
30 1/4m (76.5 cm) blade
Estimates:
GBP: 12,000-15,000
US$20,000-24,000
€16,000-19,000
The blade inscription is a slightly shorter version of 'SIGVINAIS', which has been interpreted as S(alvator) I(esu) G(enitrix) V(irgo). I(esus). N(omine) A(Itissimi) I(esu). S(alvator). See D. A. Drboglav Zagadki
Latinskikh Kleim na Mechakh IX-XIV vekov
, 1984, p.118.
This sword, the hilt decoration in particular, compares closely with the so-called 'River Witham' sword in the British Museum (1848,10-211), dating from the late 9th century and classified as Petersen type L variant. Further comparison identifies the present sword as an example of the 'Wallingford Bridge' type dating from the 10th -11th century, a further variant of the Petersen type L.
It is suggested that the hilt fittings were probably made in a Southern English, late Saxon, workshop.
See Ian Peirce, Swords of the Viking Age, Woodbridge 2002, pp.77-79.
---

Attachment: 53.51 KB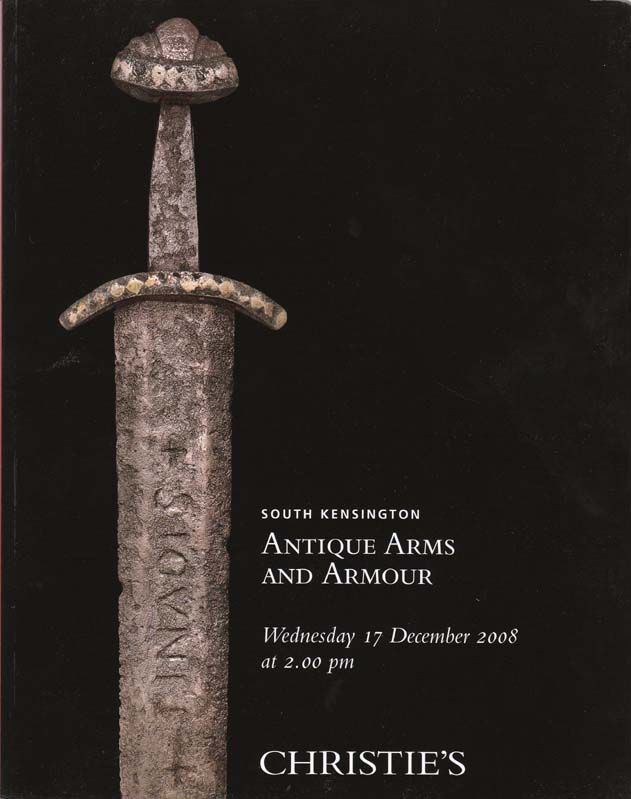 Attachment: 19.78 KB



Attachment: 112.91 KB