Hello fellow forumites,
The following project is my attempt to turn a Generation 2 "Pompei
Gladius
" into something a lot more historically accurate. This was my first sword (I have two :lol: ), and I bought it knowing that it had little historical value. The reason I chose this blade was due to several review I had read about Generation 2 producing sturdy beaters, and I wanted something tough. The more I had been reading this forum, the more confidence I had gained toward the idea of doing something to "fix" this sword (thanks to the help of other members). And so here I am introducing my first sword modification.
Stats (Out of box)
Blade Length: 22"
Hilt Lenght: 7.5"
Overall: 29.5"
POB: 3.5" below hilt
Weight: 1lb 14oz
Link to the sword on Generation2 site:
http://www.imperialcoinc.com/Shared/IP-022.html
For the first installment of this project, I have been reshaping the tip of this sword. The original tip is just a little too pointy to be a classic Pompei Gladii. I removed a large portion of the tip using a Dremel cutting tool. I took things very slowly, making 3 or 4 passes then dabbing with a damp towel. This never allowed the blade to get hot, thus ruining the temper. After about 1.5 hours of cutting this is the result...
---

Attachment: 31.34 KB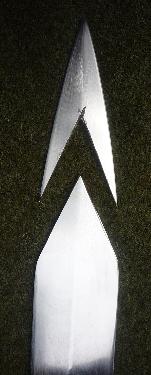 Attachment: 27.49 KB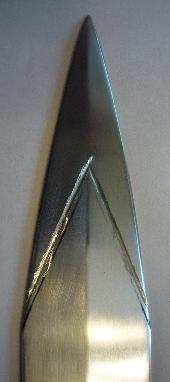 Attachment: 31.2 KB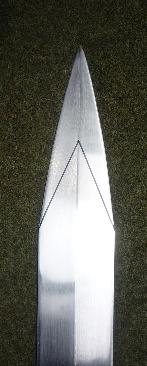 Attachment: 28.91 KB